Southeast Michigan vegetable update – May 6, 2020
This weekend will usher in an arctic air mass, bringing unseasonably cool temperatures to our area.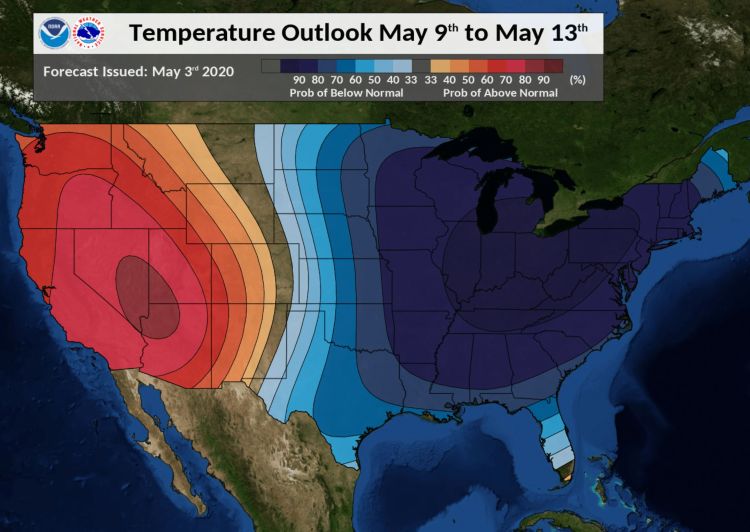 Weather
A warm weekend allowed for lots of work to get done and plants to get some growth in, though this year has still been cooler than average. The cold trend will continue, with an arctic air mass moving in Friday morning, May 8. This weekend's temperatures will be 15 to 20 degrees cooler than what is typical for early May. As the front moves in, there is some chance of flurries, but overall things will be dry. Friday, Saturday and Sunday morning will bring the coolest temperatures, with predications suggesting a low temperature range of 26 to 28 degrees Fahrenheit. Saturday morning will be the coolest and have the greatest chance of a freeze. There will be some gusty winds from the north.
The table below shows rainfall totals for the Michigan State University Enviroweather stations in southeast Michigan, as well as degree-days calculated using the Baskerville-Emin Method. Degree-day average for Commerce and Hudson is over five years, while Deerfield is over three years. Soil temperature range in Fahrenheit at 2-inch soil depth over the last week, and rainfall is in inches. Frozen precipitation is not included. For a refresher on degree-days and how to get this information in your area, see "Accessing growing degree days with Enviroweather" from MSU Extension.
Rainfall and degree day totals as of May 6, 2020

Station

Degree days (base 42)

Degree days (base 50)

5-year degree day average (base 50)

Soil temperature range

Rainfall since April 1

Commerce

249

85

133.1

49.5-58.9

1.82 (+0.68)

Deerfield

322

128

175.1

48.6-71.5

2.08 (+0.17)

Hudson

271

104

147.5

48.9-53.7

2.35 (+0.27)
Cold weather note
For those with fruit, the MSU Extension fruit team has summarized actions to take in their article "What can fruit growers do if a freeze is coming?"
For those concerned about soil temperature, see the MSU Extension article, "Moist, weed-free soil retains more heat."
Crop reports
Some light asparagus picking has occurred. Frost may damage some spears this weekend, especially in lower areas.
Cole crop planting continues. The Deerfield Enviroweather station is predicting cabbage maggot flight is ongoing. The cool weather will likely mean a longer flight period with less fly activity during cold periods. In fields I have scouted, I have seen no signs of insects, but plants that have been out since early April show the signs of being nipped by last month's cooler temperatures.
On the herbicide side of things, note that the 24(c) label for Goaltender used post-emergence in cole crop transplants in Michigan has expired.
This is the time of year to do a final application of nitrogen on garlic. As days get longer, the plants will get the signal to bulb. The larger the plant is when this occurs, the bigger the bulb will be, and once the plant starts to focus its energy on growing the bulb the growth up top will halt. Some nitrogen now will promote a bigger plant, thus a bigger bulb.
Some early potatoes are sprouting.
Sweet corn planting is ongoing. The cool weather means slow emergence and growth. Emerged plants may be yellow, as cooler weather slows nitrogen uptake. They should green up once things warm up.
Reach out
Please contact me at schuhmar@msu.edu or 517-264-5309 with questions, concerns or to schedule a field visit. I have the ability to do field visits on a limited basis.
Great Lakes Vegetable Producer's Network
The Great Lakes Vegetable Producer's Network is a live, weekly roundtable discussion during the growing season for commercial vegetable producers in the Great Lakes and Midwest region. It is broadcast live via Zoom at 12:30 ET/11:30 CT every Wednesday from the first week of May to the first week of September. You must register to be a part of the live audience. If you have a pressing vegetable production issue that you would like discussed, simply email it, along with your phone number, to greatlakesvegwg@gmail.com.
Next week's roundtable, held on May 13, will cover soil preparation and holding transplants.
Food safety
Compliance dates for the Food Safety Modernization Act (FSMA) have now arrived for farms of all sizes. Still trying to figure out if you are covered by the rule? Use this interactive tool to help you navigate exemptions. If you plan to take a water test before you start irrigating or spraying, you can using the Michigan Ag Water Lab Map to find a lab that can do FSMA-compliant water testing near your farm. Call the lab ahead, even if you have worked with them in the past. Some have changed workflow with everything that is going on right now.