Southwest Michigan fruit update – May 4, 2021
The warm week stimulated quick development. Many crops have made it through the freezes in good shape.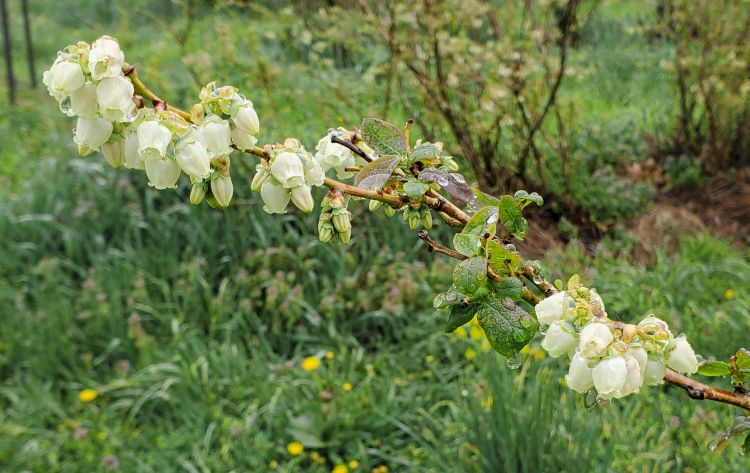 Weather
Last week was warm. High temperatures for most of the week were in the 70s or low 80s. Thursday and Friday were the exception. Friday's high was around 50 degrees Fahrenheit for much of the region. The coldest temperatures of the week came on Saturday morning when many areas saw lows drop below freezing. A few sites saw 27 F, but most areas stayed above 30 F. Thursday and Monday saw light rain, but total amounts for the last week are a quarter inch or less.
This week is expected to be cooler. The week should see highs in the 50s and 60s with lows in the upper 30s. The best chance of rain is on Sunday. Soil temperatures have risen into the upper 50s in many areas. With the warm week, we picked up more growing degree days (GDD) last week: 104 GDD base 42 and 63 GDD base 50.
Southwest Michigan GDD summary from March 1 - May 2, 2021

Station

GDD 42 F

GDD 45 F

GDD 50 F

Benton Harbor (SWMREC)

452

355

227

Lawton (Lawton)

462

362

227

Fennville (TNRC)

381

293

181

Average for the SW region

448

351

223

Average last week

344

264

160
Tree fruit
Foliage is starting to green up with warmer temperatures and rain. Potential crop yields are becoming easier to assess with fruit starting to swell and freeze-damaged blossoms dropping. Insect pests will start targeting exposed fruit.
Apricots are out of the shuck. Some are at 9-11 millimeters. The crop looks to be very good at some sites and poor at others. Plum curculio will become a concern now that we are starting to see warm evenings. Brown rot susceptibility drops between bloom and fruit coloring close to harvest.
Peach and nectarine are in the shuck. The effects of the freezes and extended bloom period will be more noticeable once they come out of the shuck. Freeze damage is greater on terminal ends of branches where flower opening occurred first. Oriental fruit moth catches increased significantly in the past week, indicating mating is likely.
In cherries, tarts are at petal fall, sweets are in the shuck. The freezes on April 2, 21 and 22 hurt both tart and sweet cherries, but tarts have the best prospects for decent to good crops, depending on the site. There were some cherry leaf spot infection events in the past week. Cherry leaf spot infections occur much quicker at temperatures above the mid-50s. Plum curculio feeding and egg laying in sweet cherry fruit could begin within a week if temperatures are warm.
In plums, Japanese plums and European plums are in the shuck. Crop prospects still look decent, but it remains to be seen how many fruit will stick on the tree. Poor pollination and frost damage can increase split pit problems at harvest. Black rot control is still ongoing, and brown rot management will be important as temperatures rise.
Apple buds are generally at full bloom or petal fall, depending on the variety. Frost-killed king bloom are drying up and dropping. Damage to king bloom and some side bloom will complicate fruit thinning spray decisions. Warm temperatures on Sunday followed by rain on Monday raised the risk of fire blight infections. Last week Thursday and Monday this week were also apple scab infection events. Scab ascospore catches have reduced since mid-April but are still significant. Notching and plant growth regulator treatment of young trees can help induce lateral bud development.
According to the model on Enviroweather, codling moth biofix occurred in the last week. With the cooler weather coming up, little flight is expected in the next week. Codling moth mating needs warm evening temperatures in the 60s for good flight.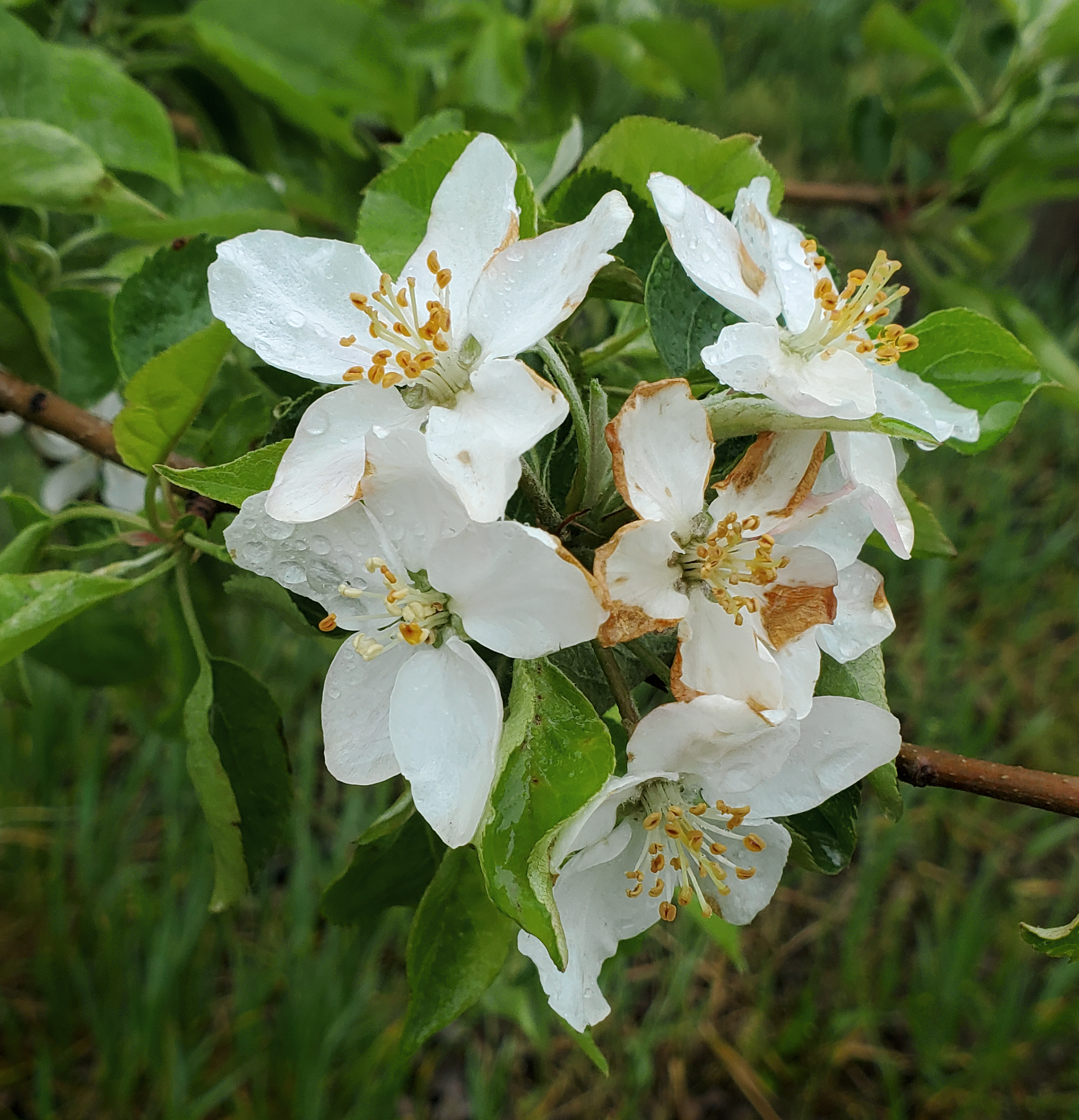 Pears are moving past petal fall. Scouting for pear psylla immatures and adults will help to determine need for treatment. Pheromone disruption of codling moth can still be put in place to manage the first generation.
Small fruit
Grapes are at late bud swell to 1-3 inches of shoot growth. There is a lot of variability in growth even within the same variety in the same vineyard.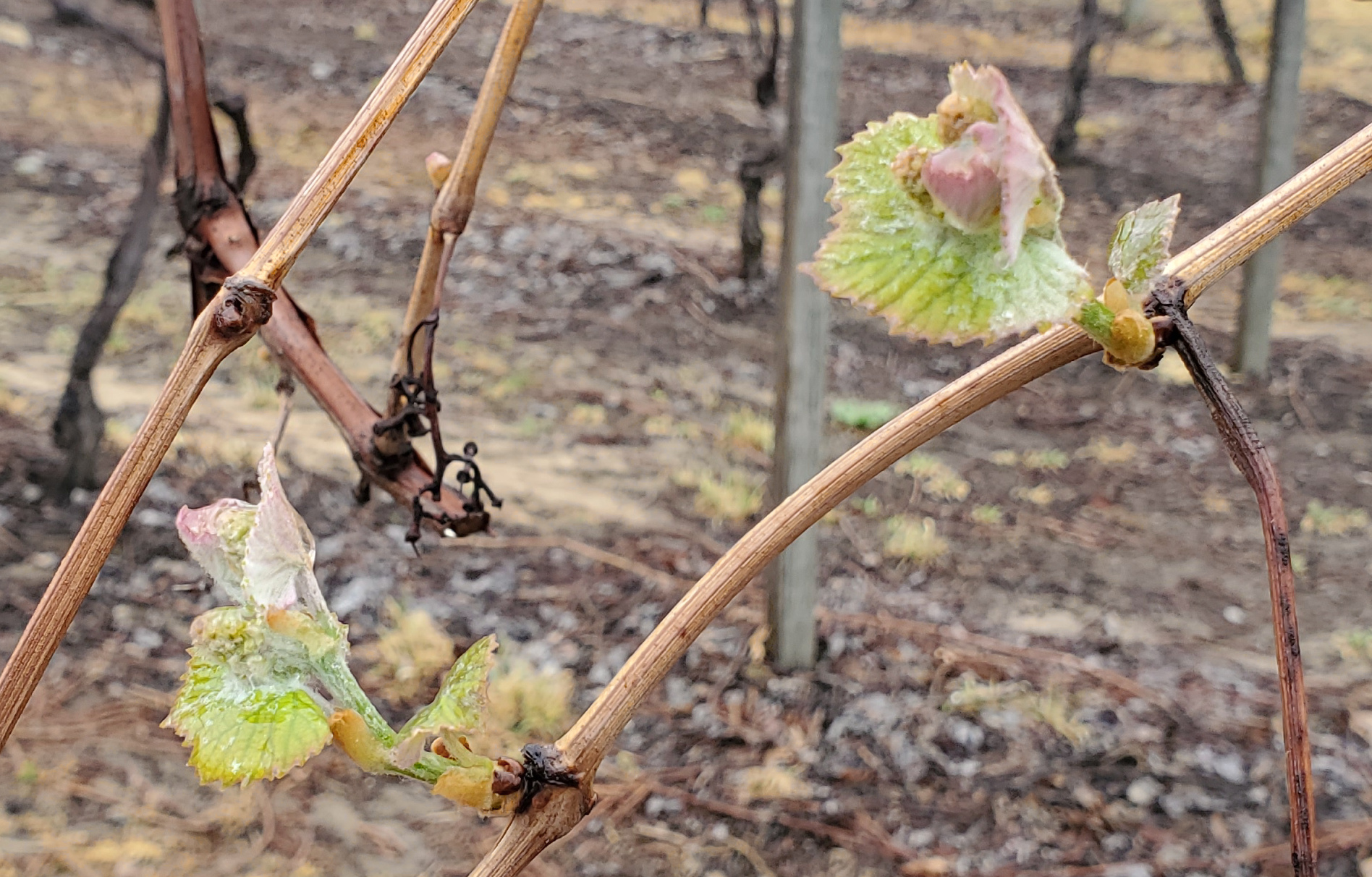 Blueberry bloom has begun in Berrien County and away from Lake Michigan in Van Buren County. With open bloom, growers can expect damage to the flowers at temperatures below 28 F. Growers should apply fungicides to protect opening flowers from mummy berry infection. Fungicide applications are focused on early bloom and mid- or full bloom to protect newly opened flowers. At the end of bloom, disease control refocuses on both mummy berry infections in late bloom and anthracnose infections to young green fruit. Applications of pesticides during bloom should be done in the early morning or at night when bees are unlikely to be foraging. Bees will still be carrying some pesticides back to the hive.
Cherry fruitworm biofix should occur in most areas this week. Management for this pest will begin when egglaying begins, which is at least a couple weeks away. Cranberry fruitworm biofix is still a couple weeks away.
Strawberry bloom has begun. With bloom and bee activity, do not use insecticides. Cool wet conditions favor Angular leaf spot, a bacterial disease, and the only effect controls are copper. If flower buds are not open growers should consider sprays to protect against strawberry clipper and tarnished plant bug.
Bramble shoots are elongating, and flower buds are visible. Growers should scout for leaf feeding insects such as leafrollers and sawflies.
Miscellaneous crops
Hops shoots are growing out of the freeze damage. Now is the time to prune. Stringing is being done now.
Chestnut leaves have emerged. Shoots are beginning to lengthen on early varieties.
Pawpaw buds have burst.
Upcoming meetings
Our regular Southwest Michigan Monday Fruit IPM Updates are available online. You need to register to receive the Zoom link and password for these meetings. The webinars are free and one pesticide applicator credit is available for each meeting. We had over 70 growers attending our Monday meetings last year.
Related articles