Southwest Michigan vegetable update – May 8, 2019
Rain and cool temperatures continue to slow field activity.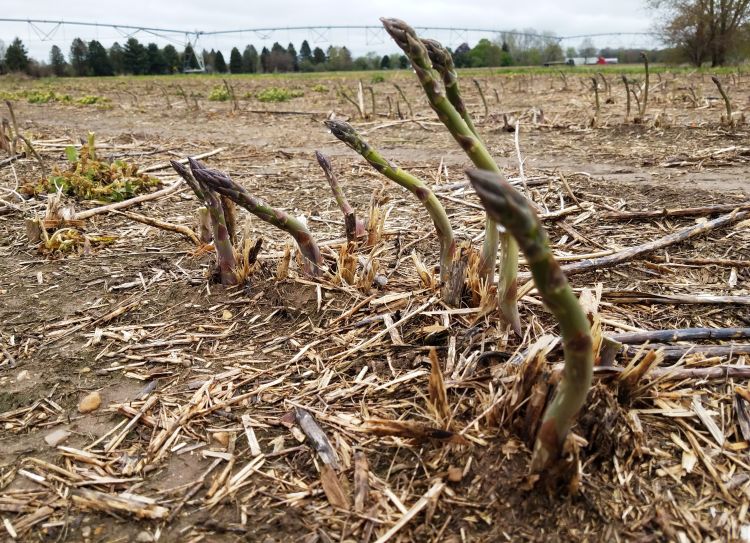 Weather
The 50 degrees Fahrenheit degree-day units are at 121 for 2019 compared to 160 for 2018 and 199 for the five-year average. We are now getting significantly behind in heat units. We had 1.5 inches of precipitation over the past week and rain continues in the forecast for Wednesday and Thursday (May 8-9). Fortunately, chance of rain diminishes over the weekend and into next week, but temperatures are expected to remain below average.
Field activity
Weather over the weekend dried out fields enough that growers could start laying plastic on Monday (May 6, 2019) but then rain Tuesday brought that to an end. Growers feel they are not yet behind in planting but are about a week behind getting fields ready. This will cause them to have to work overtime to maintain planting schedules. Transplants are being kept in greenhouses for now, but will probably need to be moved out starting next week.
Crop reports
Asparagus was first harvested 10 to 12 days ago. Growth has been so slow that growers are only on their second to fourth harvest. Some fields are showing wind damage that occurred sometime over the past week. Wind picks up soil particles and "sand blasts" the windward side of the spear causing lesions to form that inhibit growth on that side, causing spears to bend into the wind. Rye cover crops killed before the rye gets too tall can minimize damage by covering the soil.
More cole crops and onions have been set out over the past week and sweet corn planting continues. Emergence and growth of all crops is delayed.
Greenhouse transplants
Many transplants are now at a stage where they are about to be moved out for planting. With the cool, cloudy conditions, that could potentially be delayed. Their current growth stage and weather conditions makes them vulnerable to botrytis and other diseases. Transplant producers need to maintain good air circulation and raise the temperature if needed to reduce humidity below 85%. MSU Extension advises that a final bacterial control should also be applied prior to removal from the greenhouse.