Spotlight on agricultural education: Practicing non-formal agricultural education in rural schools
When the FFA program is not available in your area, what other options exist?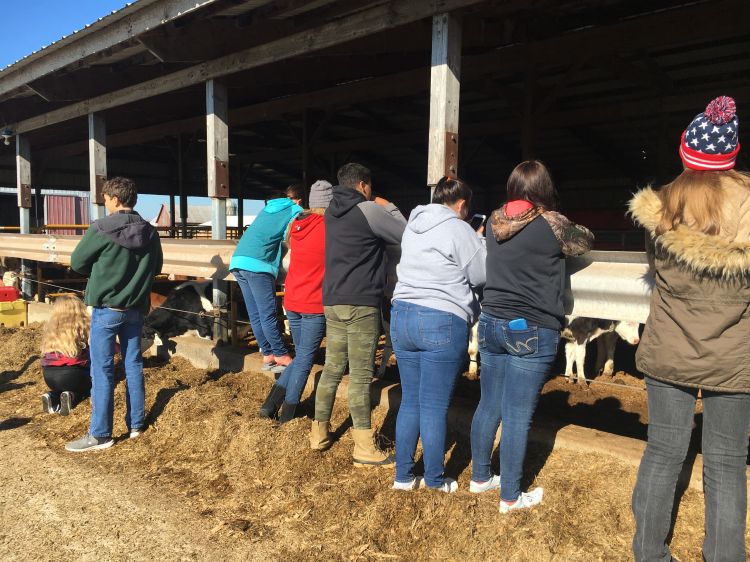 Michigan State University Extension staff and educators in Michigan's Upper Peninsula have been creating opportunities for youth to experience farming and food systems in areas where there are few formal opportunities to study agriculture. Our goal is to inform students about the job opportunities available in agriculture and food systems. Next-generation concerns exist in our farming communities, yet only one FFA program and one CTE program with an agriculture focus exist in an area that comprises one-third of Michigan's landmass: the Upper Peninsula.
The educational technique being used in a school in each of the Upper Peninsula's seven Intermediate School Districts (ISD) is land-based learning. Land-based learning is where students and their teacher collaborate with farmers or ranchers and an MSU Extension educator, acting as a facilitator, to implement place-based projects within the context of agriculture, food and natural resources systems to increase the sustainability of local farms.
Using land-based learning as a starting point for conversations about specific sustainability needs in rural communities above the bridge, seven farms have offered to engage with schools and young people as land-based learning centers. Each independently owned farm is a touchpoint for agricultural education, offering staff to visit classrooms to carry out lessons pertaining to agriculture, providing tours so students can see farming first hand and inviting students to engage with sustainability issues on their farms in the context of real-world problem-solving.
The Upper Peninsula is a large and sparsely populated area of the country that has a unique culture, but the agricultural issues that many of our farms face are not unique: dairy farms are struggling to be profitable in light of falling milk prices, spotted wing Drosophila threatens small fruit production and season extension structures see additional pest pressure. This article series will provide examples of land-based learning in two different contexts, one based on the MSU Upper Peninsula Research and Extension Center's teaching farm and its relationship with schools that have school gardens. The other land-based learning program is a North Central Sustainable Agriculture Research and Education (SARE)-funded project that brings schools, farms and Extension into partnership to address on-farm sustainability issues.
Start Seeds/Save Seeds was funded by the Central Upper Peninsula Planning and Development Regional Commission. Classrooms that participated in this program received vegetable plant transplants, visited a farm and received classroom visits from agriculture educators. More information about this program can be found in "Spotlight on agricultural education: Linking the school garden to the farm."
The on-farm projects were funded by the North Central Region SARE program. Working in conjunction with a local farmer, educators are providing active learning opportunities for students in the Upper Peninsula and generating student interest in careers associated with food and farming systems. Ultimately, we hope more youth will enter an agriculture-oriented career and help the next generation of Upper Peninsula farms grow and succeed.
To learn about each of the farms that are the first cohort of land-based learning centers, follow the links below:
For inquiries, please contact Abbey Palmer at palmerab@msu.edu or Monica Jean at atkinmon@msu.edu.