"The AAEA [Agricultural and Applied Economics Association] is a wonderfully productive mix of professionals applying economics in all sorts of research and education. As President, I've had the opportunity to launch a new publication on teaching, broaden our mentorship, and strengthen our ability to advocate for our members."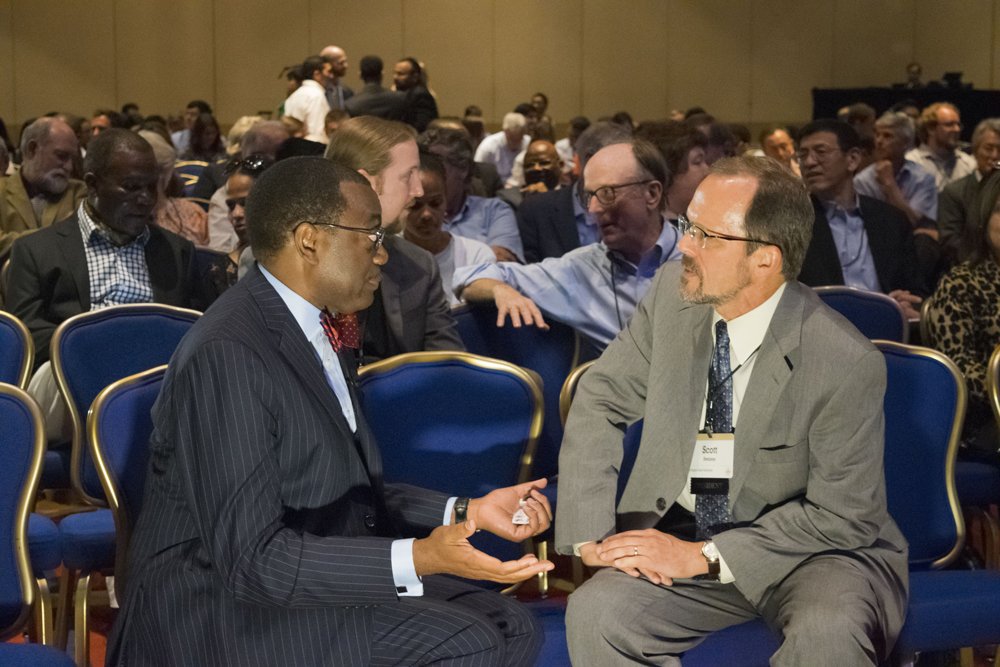 African Development Bank President Akinwumi Adesina and Swinton at the AAEA annual meeting in Washington, DC, August 5, 2018.
With those words, Scott Swinton, professor in MSU's Department of Agricultural, Food, and Resource Economics, sums up his core accomplishments as President of the Agricultural and Applied Economics Association. Reflecting on his time leading the 2,400 member organization, Swinton emphasized building an inclusive community and found lessons from AAEA that pertain to Michigan State University.
Elected in 2016, Swinton has served on the AAEA Executive Committee since then, first as President-Elect, next as President in 2017-18, and currentlyas Past President, until July 2019.
New Initiatives
"It's been a privilege to engage with insightful AAEA colleagues and to build on the dedication and creativity of previous presidents, boards, and leaders," said Swinton. "I'm particularly indebted to past and current presidents Julie Caswell, Jill McCluskey, Jayson Lusk, David Zilberman, and Keith Coble."
Among the initiatives launched during Swinton's term was the AAEA's first publication devoted to teaching, Applied Economics Teaching Resources. For the AAEA's many gifted teachers, the new publication offers a place to share learning games, case studies, and teaching approaches. "At a time when university teachers are increasingly called upon to demonstrate their scholarship, the AETR offers a way to do that while strengthening teaching and learning across our profession," said Swinton.
Mentoring early career professionals has been a strategic goal of the AAEA since 2014. To complement long-term mentor-mentee pairings and professional workshops, Swinton introduced a more casual, its-just-lunch approach. Starting with the January 2017 meeting of the Allied Social Science Associations (ASSA) in Chicago, the AAEA offered a program to match seasoned members with early career professionals—many of who were on the job market. At the same meeting, the AAEA introduced an Early Career Professionals reception. In strengthening the support that the AAEA offers to job market candidates at the ASSA meetings, Swinton built on his MSU experience as director of graduate studies in AFRE during 2011-16.
At a time when the economics profession has been under scrutiny for its treatment of women, the AAEA developed a code of conduct and anti-harassment policy that takes effect with the summer 2019 annual meeting. "We want to affirm that the AAEA is a community that respects and supports all its members. We have a policy now thanks to a dedicated Board task force and energetic input from the Committee on Women in Agricultural Economics (CWAE)," observed Swinton.
A final important innovation that Swinton spurred was to change AAEA policy to allow the AAEA to take public policy positions in support of research education, and outreach in agricultural and applied economics. Within weeks of the January 2018 Board vote, the Association was calling for Congress to oppose a 48% cut proposed by the Administration for the FY2019 budget of the USDA Economic Research Service (ERS). A subsequent proposal to relocate and reorganize the ERS led Swinton to pen an opinion piece in the Des Moines Register and led the AAEA to call publicly for a careful benefit-cost analysis before any drastic geographic or administrative move of the ERS.
Connecting to MSU
As his major responsibilities taper off at AAEA, Swinton is looking to apply this thinking to MSU and his home department.
"As MSU continues to grapple with the issue of institutional culture, the most important thing to focus on is fundamental goals. In the AAEA, as at MSU, those goals are to learn and to teach — to uncover truths and to educate others in those truths and how to uncover them," said Swinton. "To accomplish that, we need to nurture a diverse community where everyone feels valued and respected as they pursue our fundamental goals. This is not a task to be checked off; it's about how we treat one another now and into the future."
Swinton will continue to serve as AAEA Past President until July, 2019, continuing to work on initiatives related to childcare at the annual meetings and the evolving form of AAEA government relations.
Learn more about Scott Swinton and his time as president of the AAEA.