Taking new varieties from the lab to the field
The time-intensive process of crop variety development relies heavily on partnerships with MSU Technologies.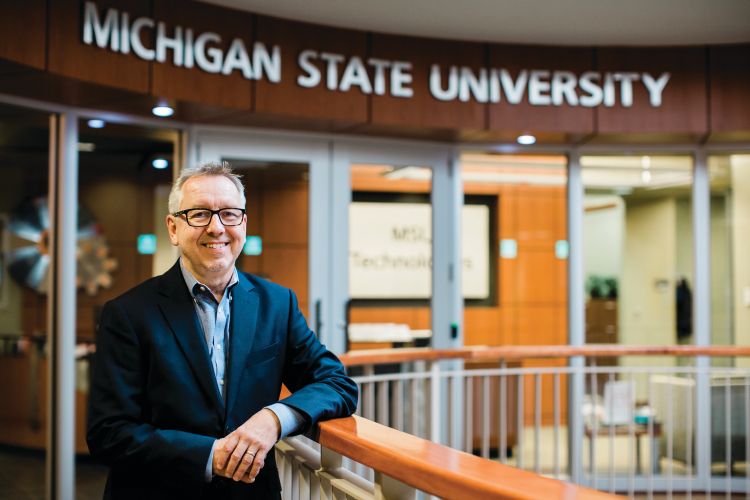 James Kelly has brought the century-old Michigan State University dry bean breeding and genetics program to new heights during his 40-year career. An internationally respected scientist, Kelly has developed nearly 50 varieties in a state where dry beans are an essential commodity.
His laboratory studies a host of bean classes, including navy, black, white kidney, pinto, small red, and light and dark red kidney. Varieties are bred to improve a multitude of plant properties, such as yield, disease and pest resistance, stress tolerance,canning quality and plant architecture.
But getting those beans from the lab to the field is no small feat. It's a laborious process that typically takes years and involves collaboration with key partners. One of those instrumental in the process is MSU Technologies, an organization that protects the researcher's and the university's intellectual rights and interests while working with companies to disseminate new varieties, new products, new tools and new mechanisms to growers.
In Kelly's case, once a new variety shows promise and stamina in the field, it must pass a series of performance and quality tests. From there, it's on to review by two MSU committees — one specific to the crop commodity and a second dedicated to variety releases for all commodities. If it clears that threshold, the variety moves to review by the chair of the MSU Department of Plant, Soil and Microbial Sciences (PSM) and eventually on to the MSU AgBioResearch director's office for the final decision.
"Most of the material we produce isn't of much value, but when we find something that is, it's quite exciting," said Kelly, a University Distinguished Professor in PSM. "That's the nature of plant breeding and part of the reason it takes a long time, but that's just the first part. A lot goes on behind the scenes before it ever reaches a farmer."
After an invention disclosure is written to describe the variety or the product, its characteristics and advantages over existing plants and/or products, MSU Technologies takes it from there.
MSU Technologies is led by executive director Rich Chylla. He joined MSU in 2012 after two decades as a private-sector chemical engineer and a brief stint in the University of Michigan's Office of Technology Transfer, working on inventions from the College of Engineering.
"We're trying to put research to use to create impact," Chylla said. "What that means is that we are looking at new technology and determining if it can be of public benefit. Once we've made that decision, in some cases we need to get that technology into the hands of a commercial entity to help us have the widest possible reach."
Scientists in MSU AgBioResearch and the College of Agriculture and Natural Resources are some of the most frequent users of MSU Technologies. Chylla said more than one-third of all inventions that pass through his office annually are related to agriculture.
Tom Herlache, a technology manager and assistant director for commercialization, handles the agriculture sector for MSU Technologies. Some inventions necessitate a patent, but plant varieties are different. MSU Technologies seeks variety protection and once that is obtained, the plant is treated as intellectual property. As owners of the intellectual property, MSU licenses a partner organization to complete commercialization.
Kelly has seen his varieties achieve significant success with the assistance of a licensee. He and James Hancock, a professor emeritus in the MSU Department of Horticulture who bred numerous widely grown blueberry varieties, are responsible for three of the five highest-earning MSU Technologies licenses.
The Michigan Crop Improvement Association (MCIA) has purchased the licenses to several of Kelly's bean varieties. The MCIA primarily works with dry beans and wheat, and it is an official state of Michigan seed certification organization.
"The Michigan Department of Agriculture and Rural Development sets standards that we hold each variety to," said Randy Judd, manager of the MCIA. "When the seed gets that blue label for certification, the farmer can be sure that it meets these state standards."
Once a variety is licensed through MSU Technologies, the MCIA receives a small amount of seed from the breeder. The seed is grown to confirm that it matches the variety description and to increase the amount of seed available. Using what's called foundation seed, the MCIA contracts growers to further increase the seed stock while it continues to evaluate performance and move toward certification.
"We have a great relationship with breeders at MSU," said Jim Palmer, the foundation seed operations manager at the MCIA. "They come to our annual meetings and speak, and we're involved in MSU events. They aren't creating these varieties in a vacuum — they're working closely with us and with growers to generate the best possible product."
Kelly appreciates each organization's role in getting his varieties into growers' hands.
"When a variety is released, it's the property of the university, but it's the breeder's responsibility to maintain the breeder seed and help as much as possible with commercialization," Kelly said. "I work closely with MSU Technologies and the MCIA, in many cases. It's a team effort to see the process through."
This article was published in Futures, a magazine produced twice per year by Michigan State University AgBioResearch. To view past issues of Futures, visit www.futuresmagazine.msu.edu. For more information, email Holly Whetstone, editor, at whetst11@msu.edu or call 517-355-0123.