Tax Reforms Benefit Farmers and Traders: A Case of Tea Production and Marketing in Tanzania
How our ASPIRES Tanzania team research on crop cess study benefits farmers.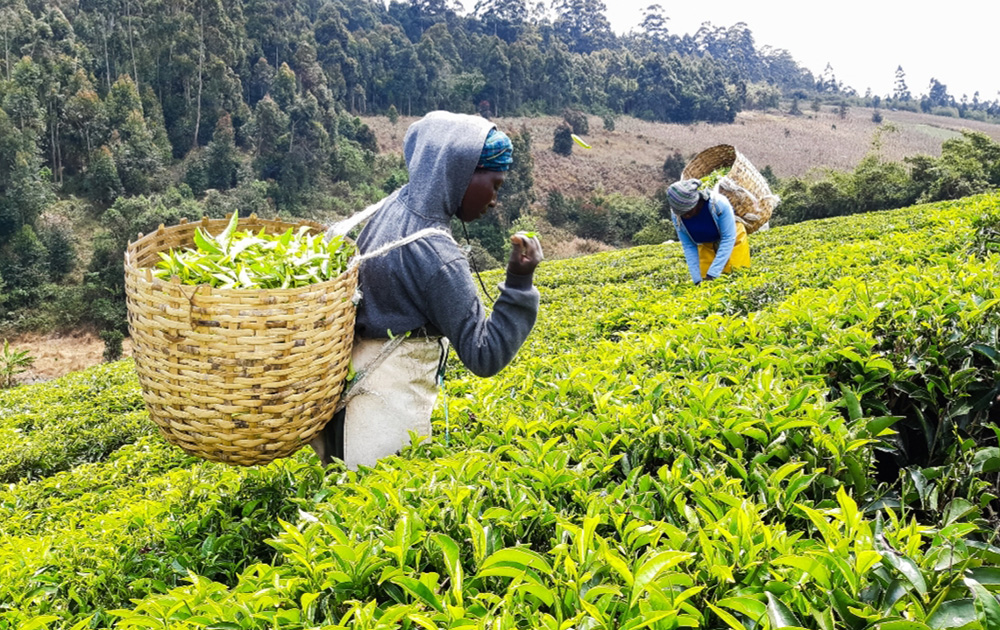 Photo: Employees in a tea farm in Iringa pluck leaves before delivering to companies for sale. Photo credit: Elizabeth Mwambulukutu, 2018)
Adam Kibiki is a tea farmer, husband and father of three kids in Iringa, located in Southern Tanzania. He is among the 65% of Tanzania's labor force that is employed in agriculture and who contributes 29% towards the national Gross Domestic Product (GDP).
Recently, Tanzania launched the second phase of the Agricultural Sector Development Programme (ASDP II). The program aims to increase farmers' productivity, commercialization and incomes. This is exciting news for Kibiki as tea is among the program's priority commodity value chains for his region.
According to the Ministry of Agriculture's 2018 budget speech, the production of tea in Tanzania is estimated at 35,000 tons in 2018/19. Kibiki has been among the smallholder farmers contributing towards the growth of Tanzania's tea production through his seven-acre tea farm which employs three people. Kibiki is also a member of a small farmers' association and community of practice called (Chama cha Wakulima Wadogo Wilaya ya Mufindi). As a member of the association, among other benefits, he is able to get trained on good agricultural practices and obtain loans.
On average, Kibiki plucks the tea leaves from his farm every 18 days. Annually, he harvests up to 20,000 kilograms which he sells directly to companies such as Unilever Tea Tanzania Limited (UTT). UTT then processes tea leaves for national and regional consumption as well as exports, contributing approximately 30% to the total volume of tea produced in Tanzania. For tea farmers like Kibiki, this guarantees a market for their produce.
Companies had to pay up to 5% of produce price to the Local Government Authority (LGA). This rate varied across LGAs nationwide. The lack of harmonization of produce cess created an element of unpredictability that increased the business risk to tea processing companies. This trickled down to lowering incomes for farmers.
In response to this situation, in 2014, the Feed the Future Innovation Lab for Food Security Policy, ASPIRES project in Tanzania, started assessing tax practices in rural areas and made recommendations to the Government of Tanzania. These resulted in the implementation of fiscal reforms across all LGAs in the 2017 Finance Bill, in which produce cess ceiling was lowered from 5% to 3%. The 2017 Finance Bill also stipulated an exemption for produce cess for an amount up to one ton in transporting crops from one LGA to another.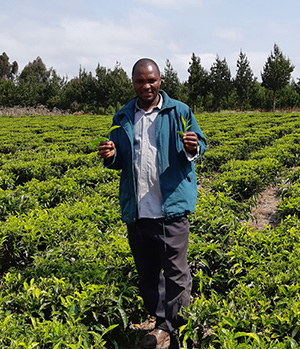 Today, farmers like Kibiki have something to smile about because of these bold reforms implemented by the Government of Tanzania. The reduction of produce cess from 5% to 3% and other reforms implemented by the Government of Tanzania are contributing to Kibiki's higher income. For example, as a cumulative effect of all the reforms, Kibiki's earnings have increased from TShs 250 per kg to TShs 314 per kg, earning him an extra 64 TShs per kg. Based on his annual harvest of 20,000 kilograms of tea leaves, Kibiki can now earn an additional TShs 1,280,000 (approx. USD 581) per annum.
With this increased income, Kibiki can now comfortably support his family and pay for his children's education. This includes two children in high school and one in seventh grade. Kibiki sighs a sense of relief by saying in Swahili "mzigo umepungua" which literally means the burden has been made lighter.
"Delaying the payment of my children's school fees is no longer among my worries as I am now earning higher incomes through tea farming. Recently, my daughter started form six in a private school," testifies Kibiki.
Funded by the United States Agency for International Development and the Bill and Melinda Gates Foundation, these significant milestones demonstrate the impact of the project's policy research findings through the crop cess study and policy outreach, led by ASPIRES since 2014.
Commenting on this achievement, David Nyange, ASPIRES Chief of Party said: "Supporting local government fiscal reforms has been at the core of ASPIRES' activities since inception. The recent reforms on produce cess are a testimony of how policy research findings can be used to effectively inform decision making and set the pace for more credible, inclusive, transparent and sustainable policy formulation processes in Tanzania's agricultural sector."
Going forward, ASPIRES will continue to work with PO-RALG and the Ministry of Agriculture (MoA) in preparing detailed guidelines to LGAs on the implementation of reforms. ASPIRES, in collaboration with MoA and PO-RALG, is currently preparing the framework for monitoring, evaluation, and learning, and impact assessment of these tax reforms.