Teffola – the littlest grain that could
MSU Product Center client spotlight: Claire Smith.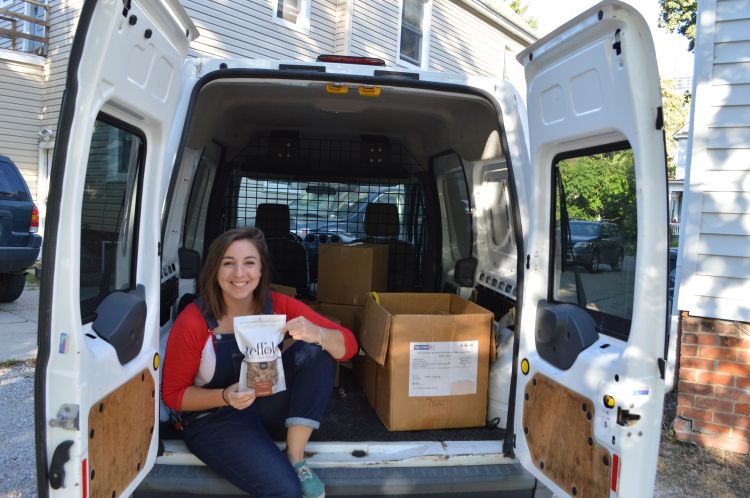 Claire Smith's dad, a sixth-generation farmer in Southeast Michigan, knew he needed to make a change on the farm. Market prices for the corn and soy he produced were unstable, so together with his family, they began exploring the production of alternative grains and seeds. In 2015, they began producing teff, a very small grain most popularly used to make traditional Ethiopian bread called injera. The goal was to mill it and sell it to Ethiopian restaurants, but the demand was just not there.
Claire Smith signed a contract with an incubator kitchen and began producing a granola using the teff seeds grown on her farm. The demand for Teffola (teff + granola) took off and soon Smith was selling her product in several local grocery stores. As the flavorful granola reached more consumers, demand continued to skyrocket and soon the product was in stores throughout Southeast Michigan. But it wasn't just her product; Smith's tenacity and can-do attitude made buyers of all kinds excited to work with her.
Launching a new food product is all-encompassing and requires a passion and drive unique to the industry. Smith left no stone unturned as she has networked with buyers, fellow food makers, lenders, suppliers, and business consultants over the last few years. Her hard work is paying off. Smith is exploring working with a co-packer who would physically make her product, thereby allowing her to focus on marketing and promotion. This is a common pivot point in the food makers' journey, and we're excited to see Teffola grow over the next few years. To learn more about Smith and follow her journey, visit her website or follow her on Facebook or Instagram.
The MSU Product Center assists entrepreneurs in the areas of food, agriculture, and natural resources. Innovation counselors throughout Michigan work with clients like Smith from pre-launch to full scale distribution and new product development. The Center's goal is to help every client find as much success as Smith has found. The annual Making It In Michigan Trade Show is an important part of a new food maker's journey as it provides a dedicated networking time with buyers, fellow entrepreneurs, and technical support specialists.
This year's Making It In Michigan Conference and Marketplace Trade Show will be held virtually April 27-29 and May 4-6, 2021. The program will feature in-depth educational sessions, networking opportunities, take-home resources, and a virtual trade show for food entrepreneurs to sell their products and make connections with buyers through customized virtual vendor displays and a unique buyer-supplier event. The conference will also incorporate a pitch competition through the Michigan Good Food Fund and a collegiate chef recipe showdown in partnership with the Michigan Bean Commission.
The MSU Product Center is excited to partner with the Michigan Department of Agriculture and Rural Development and the Michigan Economic Development Corporation on May 6, 2021, as part of the conference to offer a unique matchmaking opportunity for buyers and sellers. For detailed conference or trade show information visit, https://www.canr.msu.edu/miim/ or contact ANR Event Services at events@anr.msu.edu
The MSU Product Center supports entrepreneurs in the food industry by offering food product businesses the information and tools they need to succeed today. Previous Making It In Michigan conferences have attracted nearly 200 food product businesses and dozens of food business buyers.