The Legume Innovation Laboratory
Through the Legume Innovation Lab, which is funded by the U.S. Agency for International Development's Feed the Future initiative, MSU is on the cutting edge of legume research.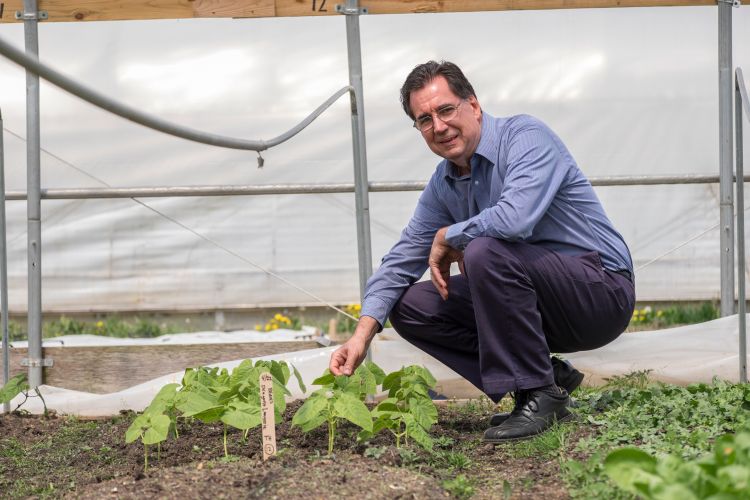 In December 2013, the General Assembly of the United Nations voted to declare 2016 the International Year of Pulses (IYOP). The designation, which sheds light on a food source that could slash hunger and poverty, has been nearly two years in the making with input spanning the globe. But what exactly is a pulse?
Pulses are the dried seeds that come from many plants in the legume family, according to a definition by Pulse Canada – a sponsor of IYOP. The most common pulses are chickpeas, dried beans, dried peas and lentils — all great sources of fiber, protein, and minerals such as iron, zinc and phosphorus. Pulses, as well as legumes, have the nutrient capacity to transform millions of lives.
Michigan State University (MSU) has a rich history of research on pulses and legumes, dating back to the early 1900s with the establishment of the bean breeding program within the Michigan Agricultural Experiment Station (now called MSU AgBioResearch). Frank Spragg, the program's first breeder, made contributions to bean studies that remain relevant today. His most profound achievement came in 1915 with the development of the first navy bean, called Robust, which delivered consistently high yields.
Ensuing decades would see the introduction of numerous other bean cultivars from MSU and recognition of the university as a leader in this area. During that time, MSU would foray into research on additional leguminous crops. Growing expertise and a commitment to diverse areas of research — such as breeding, genetics, pathology and nutrition, among others — have kept MSU at the pinnacle of legume science.
"We are fortunate to have some of the world's leading bean and legume scientists at MSU," said Douglas Buhler, MSU assistant vice president for research and graduate studies, and director of MSU AgBioResearch. "The work we do in Michigan on breeding, genetics, pest management and other disciplines transcends geographic boundaries. It's just as applicable in Africa or Latin America as it is here. We benefit tremendously from international collaborations, something our legume scientists do exceptionally well."
One of the university's largest efforts involving legumes — and a major contributor to MSU's international portfolio — occurred in 1980 with the introduction of the Bean/Cowpea Collaborative Research Support Program (CRSP).
Increasing International Impact

With funding from the U.S. Agency for International Development (USAID), the Bean/Cowpea CRSP has been administered by MSU since its inception. Plant genetics professor Wayne Adams, as well as other MSU faculty members, saw the potential of increasing the profile of legumes as an important food source. Adams became the co-founding director of the Bean/Cowpea CRSP. The program evolved through various titles, from Bean/Cowpea CRSP to the Dry Grain Pulses CRSP. It is now the Feed the Future Innovation Lab for Collaborative Research on Grain Legumes, commonly known as the Legume Innovation Lab (LIL).
LIL, a research and capacity-building program, is part of Feed the Future, a U.S. presidential initiative addressing global hunger and food security. LIL focuses on edible grain legumes — common bean, cowpea, pigeon pea, lima bean and many others. MSU reapplies at the end of each program cycle to keep the LIL housed at the university. The current cycle ends in 2017.
Irvin Widders has been the director of LIL since 2000.
"At MSU, we have visionary leadership by our administration and recognition of the value of international engagement," Widders said. "We gain a great deal when we collaborate with others — accessing genes, germplasm, new technologies, etc. We're one of the leading universities in the country in putting together a cohort of multidisciplinary faculty to support the legume industry and are honored to run the lab through partnership with USAID."
A competitive grants program operated by LIL provided awards to 10 current projects in Africa and Latin America. Each project is led by a researcher from a U.S. university who works alongside other U.S. scientists and researchers from international institutions. Of the 10 initiatives, three are led by MSU faculty members: James Kelly, David Kramer and Mywish Maredia. LIL has also granted associate awards to projects such as MASFRIJOL, an effort led by MSU to enhance bean productivity and improve nutritional outcomes in the Guatemalan highlands.
Making a Difference

Growers in nations such as Guatemala often rely on seeds passed down from ancestors, resulting in poor yields and little resistance to diseases and pests. Through MASFRIJOL, growers have begun planting beans alongside maize in the highlands. As the cornstalks grow, they serve as support for the beans, which climb and wind around them.
Through LIL, plant breeders at North Dakota State University (NDSU) are working to improve climbing bean cultivars adapted to the unique region for both disease and pest resistance. These highly productive varieties — with substantially higher yield potential — can transform agricultural systems in the region and address poor nutrition through increased bean consumption.
"We're breaking ground considering the specialized nature of this project and the little effort devoted to improving climbing beans worldwide," said Juan Osorno, an associate professor and dry bean breeder/geneticist at NDSU. "Not only are we introducing new varieties, we're executing a long-term plan that trains Guatemalan breeders to increase productivity moving forward. The structure provided by the Legume Innovation Lab is wonderful and has allowed me to focus on the science and capacity building rather than the administrative part of a project like this."
Adoption Challenges

Better access to new seeds is critical, but changing centuries-old farming methods can be a monumental task. New recommendations must take into account the motivation for current management, which may include cultural or social factors. It must also be financially beneficial.
Economic benefits of legumes don't just manifest at the market. Legumes reduce the need for synthetic nitrogen application because they use a process called nitrogen fixation to convert atmospheric nitrogen into a crucial plant growth element. Educating growers in developing countries on the role of legumes in a healthy cropping system improves food security, nutrition and operational sustainability.
Also through LIL, researchers at Iowa State University are exploring challenges in Mozambique and Uganda, where declining soil quality is the primary constraint to increasing productivity of common bean, a vital source of income and food security. Alternative management strategies are necessary, but adoption by local farmers has been low.The project aims to assess the soil in these regions and collect data on farmers' decision making. Additional objectives include improving the farmers' ability to make observations on soil characteristics and improving soil fertility.
Health Benefits

Improved legume production has significant human health implications. LIL invests in research that studies the impacts on nutrition from adding legumes to the diet, especially in young children. Across Africa, environmental enteric dysfunction (EED) poses a considerable risk for children and usually develops within the first three years of life. EED is a chronic inflammatory gut condition that results in malabsorption of nutrients and stunting.
In two LIL studies underway in Malawi by faculty members from Washington University in St. Louis and the University of Malawi College of Medicine, infants are fed a porridge containing bean or cowpea flour for either six months or a year. At regular intervals, infant growth, biomarkers for gut health and bacterial ecology in feces are measured. The ongoing research is already suggesting that intestinal inflammation can be reduced and nutrient absorption can be improved by eating legumes.
Combat Hunger and Poverty

"We're looking at how our efforts can function at the intersection of agriculture, food and human health, both domestically and internationally," Buhler said. "The product of much of the research done by LIL fits right in with that objective. These are interests of ours that put us at the cutting edge of science and at the same time address a real-world problem."
Widders believes that the true impact of LIL — on MSU and the global community — is immeasurable.
"Poverty and the lack of access to food are some of the greatest causes of strife around the word," Widders said. "Legumes can address both of these issues because they are nutritious and profitable to produce. We want to improve the livelihood of individuals by alleviating hunger and poverty, and we think the Legume Innovation Lab is making real headway in these areas."
To learn more about the LIL, visit legumelab.msu.edu.
This article was published in Futures, a magazine produced twice per year by Michigan State University AgBioResearch. To view past issues of Futures, visit www.futuresmagazine.msu.edu. For more information, email Holly Whetstone, editor, at whetst11@msu.edu or call 517-355-0123.