Visit 26 innovative farms with new farmers in the MSU Organic Farmer Training Program
Organic Farmer Training Program participants are learning to farm by seeing what is possible.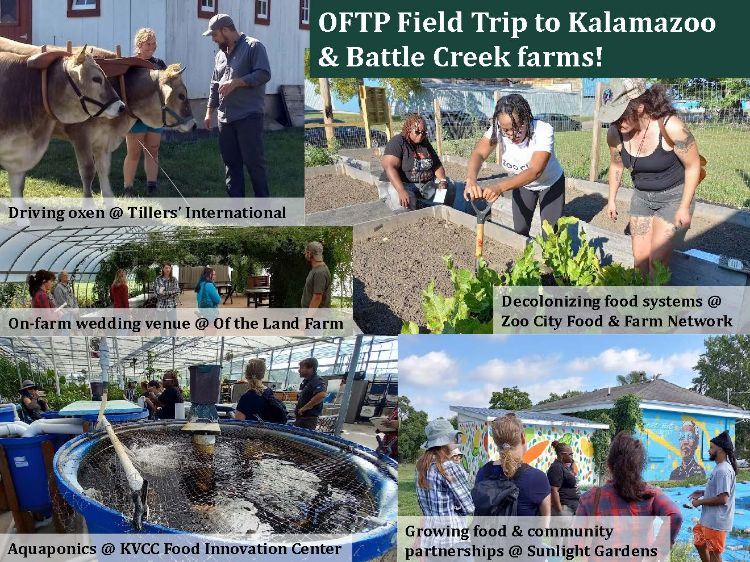 In 2022, Michigan State University Organic Farmer Training Program (OFTP) participants visited 26 farms to see vegetable production, educational gardens, rotationally-grazed pastures, orchards, permaculture sites, on-farm stores, farmstead restaurants and facilities making value-added products. Read below for a glimpse of the field trips or sign up to join in person for 2023.
Organic Farmer Training Program field trips allow beginning and aspiring farmers to plan for more successful futures by learning directly from farmers with different soils, crops and growing techniques. After each trip, everyone gathers to discuss the farms using SWOT (strengths, weakness, opportunities and threats) analysis, a one-page farm business plan, triple-bottom-line concepts or other discussion prompts. This helps in interpreting what they saw and will be a useful skill for assessing their own farms and gardens.
Detroit is a national leader in urban agriculture
Organic Farmer Training Program participants were able to visit five great examples of urban farms and educational gardens. Follow the hyperlinks to see videos about these farms by MSU videography student Maddie Strong. Two farms creatively use shipping containers in the city: Cadillac Urban Gardens grows culturally-relevant foods with leadership and support of the majority-Latinx community in southwest Detroit, and Fisheye Farms grows vegetables for sale to CSAs (Community Supported Agriculture) and restaurants.
Drew Farm is located at Drew School and employs high school students to grow food for Detroit Public School lunches and manage schoolyard gardens throughout the city. D-Town Farm and Detroit Black Community Food Security Network is a national leader in working to end racism in the food and farming system. Beaverland Farm grows annual crops like vegetables and herbs in a permaculture system alongside perennial fruits and lesser-known crops in Detroit's Brightmoor District.
Traverse City farms welcome tourists and Organic Farmer Training Program participants
Many of the farms we visit in northwest Michigan feature on-farm stores or restaurants and are larger-scale, with tractors to manage farms varying from one acre to over 100 acres.
Coveyou Scenic Farm

has an innovative energy-efficient cooler system powered by heat pumps that harnesses cold from pipes buried 5-foot deep.

Bear Creek Organics

uses lean farming principles to ensure profitability and a positive work environment.

Providence Farm

raises produce and meat for CSA, health food stores and sales at their on-farm store and deli.

Buckwheat's Market Garden

is a new farm managed by two Organic Farmer Training Program graduates and selling through an online growers cooperative.

Second Spring Farm

grows 60-plus acres of vegetables with tractor-based systems.

Heartwood Forest Farm

grows medicinal herbs for sale as transplants, fresh or dried herbs and in value-added products like salves and teas.

Loma Farm

supplies their farm-to-table restaurant, Farm Club, with a diversity of produce year-round and sources meat and grains as locally as possible.

The Weinrich Farm/Anavery Fine Foods

is a newer farm that raises livestock for onsite sales.

May Farm

demonstrated how to make and use biochar on a rotational-grazing livestock farm operating entirely on leased land without expensive farm infrastructure.
Lansing offered unique farms and gardens unlike any others in the state
In Lansing, Michigan, Organic Farmer Training Program participants visited three very different types of farms, a nursery, an urban farm and a new livestock operation. The trip to Wildtype Native Plant Nursery offered a new take on ecological enterprises, with a mix of on-farm plant sales and ecological restoration clients. Magnolia Avenue Farms was an opportunity to see an urban farm accessing multiple vacant lots through the Ingham County Land Bank and partnering with farmers and community members. Agape Farm raises pork and mushrooms and is working to reduce the barriers for other farmers of color.
We also visited a current Organic Farmer Training Program participant's family farm and the 4-H Children's Garden, which was an inspiration for many participants interested in schoolyard gardens and youth education.
Ann Arbor region is a hotbed of sustainable and organic farms
Many of the farms in the Ann Arbor, Michigan, area are selling through CSAs, popular farmers' markets and stores specializing in locally-grown products, such as Argus Farm Stop. Organic Farmer Training Program students visited the following farms in 2022:
Green Things Farm Collective

is collaboratively led by four farmers and raises products as diverse as produce, flowers, meat and seeds.

Old City Acres

 sells 85% of its produce within 15 miles of the farm in a rural area near Ypsilanti, Michigan. The farm was an impressive example of water management, using a levy, drainage tiles and sump pumps to farm on springy ground.

Nature & Nurture Seeds

 raises and sells seeds, hosts Hip Camp visitors and events on land protected by a conservation easement.

Tantré Farm

 grows vegetables, mushrooms, fruits and nuts on a large-scale farm near Chelsea, Michigan. They also founded the Washtenaw Food Hub and have recently added a U-Pick fruit operation close to Ann Arbor.
In Kalamazoo and Battle Creek, Organic Farmer Training Program

participants

drove oxen and saw five examples of strong community connections
Of the Land Farm grows vegetables as part of a thriving farm-to-table wedding venue. Sunlight Gardens is the only farm business in the city of Battle Creek, Michigan. They collaborate widely with neighbors, artists, public schools, foundations, volunteers and U.S. Department of Agriculture (USDA) programs for positive community impacts. Tiller's International develops tools for farmers in Africa, the Caribbean and Asia, but also offers workshops in traditional skills like post-and-beam construction and blacksmithing. Three Organic Farmer Training Program participants volunteered to drive oxen as part of the tour!
KVCC Food Innovation Center and ValleyHUB is a farm and food processing center aimed at creating learning opportunities for future farmers, culinary students and the broader community. Zoo City Farm & Food Network is working to decolonize urban land access and the food system in Kalamazoo, Michigan, one neighborhood at a time.
The field trips are just one part of the Organic Farmer Training program. Participants also learn through online discussions and group activities, hands-on activities at either the MSU Student Organic Farm or Keep Growing Detroit, and through creating their own farm business plans.
Apply to the Organic Farmer Training Program
The 2023 Organic Farmer Training Program fee is $3,900, but a new scholarship fund supporting people of color from Detroit, Highland Park and Hamtramck will help to welcome a diverse learning community that is accessible to urban farmers. The Organic Farmer Training Program is committed to anti-racist diversity, inclusion and the important work of interrupting and dismantling systems of oppression. Email oftp@msu.edu with questions.