West central Michigan vegetable update – April 29, 2020
The vegetable growing season is starting as spring progresses.
Weather
Wet weather will yield to good conditions over the weekend with very cool, potentially drier weather on tap for the first half of May. Temperatures are expected to moderate through Saturday, May 2, with weekend highs in the 50s and 60s and lows in the upper 30s to 40s. A Canadian origin air mass is forecast to arrive early next week, bringing cooler-than-normal temperatures and a risk of frost in interior, northern areas. As of April 29, rainfall was expected to lessen Thursday and clear out by Friday, with only scattered showers remaining. Saturday should be dry across most of the state. For the period April 29-May 6, rainfall totals of 0.5-1.5 inches are expected.
The outlooks for May 4-12 call for a very strong chance of below-normal temperatures (70-90% chance), with potentially below-normal rainfall (33-40% chance).
Crop updates
Asparagus harvest had not started in Oceana and Mason counties as of April 28. Industry members expect scattered spear emergence by the weekend. Commercial harvest is expected to start around May 10.
Growers have been applying burndown herbicides to rye covers as well as preemergence herbicides. Grass killers can be applied to clean up rye escapes and have a one-day preharvest interval (PHI):
Fusilade (active ingredient fluazipop-P, use with non-ionic surfactant or crop oil)
Poast (active ingredient sethoxydim, use with crop oil)
Select Max (active ingredient clethodim, use with a non-ionic surfactant)
Consider being on the lookout for cutworm damage this year. Temperatures this winter were mild. If we have cold weather during harvest, spears will also be exposed for a longer period of time. Permethrin is an effective insecticide for cutworms if additional applications beyond chlorpyrifos are needed.
Celery planting has started with some celery out under frost cloth.
Cole crop growers should be aware that the state label allowing postemergence applications of Goaltender to transplanted brassicas has expired.
Onion sowing has been ongoing with industry members estimating that 50-80% of the crop is planted, depending on the growing region. Some onions in southwest Michigan were in the flag stage yesterday, April 28. Overall, cool nights have held back onion growth. Growers will focus next on managing barley windbreaks. Barley may continue to grow at a faster rate than onions with our cool temperatures. When windbreaks are still needed, but there is risk of barley becoming "overgrown," some growers will apply a low rate of a grass killer to stunt but not kill the barley. Unfortunately, the state label for use of Goaltender at the one-leaf stage of onions has expired. The federal label allows for application of Goaltender at the two-leaf stage.
For potatoes, planting has been underway in southern Michigan. The volunteer potato survival and late blight forecast tools are available at Potato and Sugar Beet Pathology Program Disease Tools.
For tomatoes, Michigan State University Plant & Pest Diagnostics has received samples with edema. Edema happens when it's cool and cloudy. Plant transpiration slows during these times, so less water is leaving the plants through the leaves. Water can build up in plant cells, causing them to burst, resulting in edema.
For vegetable transplants, humidity can build on cool, overcast days. High relative humidity can favor diseases like botrytis. Increasing the greenhouse temperature by a few degrees can help by reducing relative humidity. In addition, consider watering plants only when needed at a time of day that allows time for leaves to dry out.
Great Lakes Vegetable Producer's Network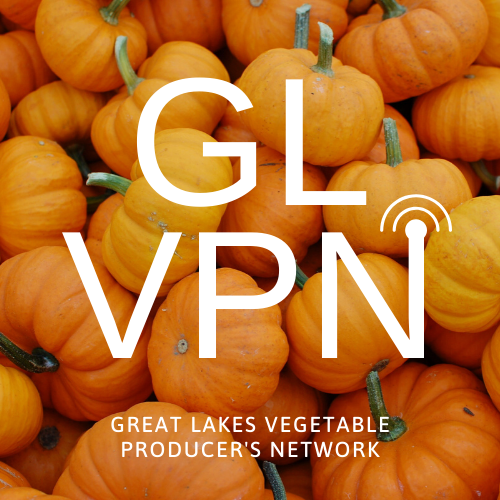 MSU Extension is participating in a live, weekly roundtable discussion during the growing season for commercial vegetable producers in the Great Lakes and Midwest region. Join us! We broadcast live via Zoom at 12:30 ET/11:30 CT every Wednesday from the first week of May to the first week of September. You must register to be a part of the live audience. If you have a pressing vegetable production issue that you would like discussed, simply email it, along with your phone number, to greatlakesvegwg@gmail.com.
In the first episode on May 6, the network will interview Amanda Byler, a family nurse practitioner with Great Lakes Bay Health Centers who works with migrant worker communities, and Annalisa Hultberg, University of Minnesota Extension Educator for on-farm food safety. Topics of discussion will include farm family, farm worker and customer safety as we enter our production season during a global pandemic.