Why potatoes? MSU plant pathologist chalks up career choice to 'l'amour'
Scottish-born plant pathologist Willie Kirk talks about his affinity for tubers and much, much more!
June 4, 2012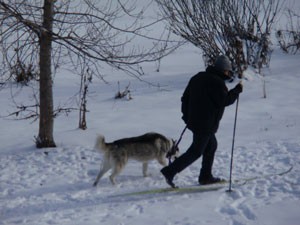 He prefers his taters mashed with garlic and cilantro. Scottish new potatoes with mint and butter are also high on the list. But ask Michigan State University (MSU) AgBioResearch potato disease expert Willie Kirk what prompted him to begin studying the tasty tuber more than three decades ago and he's initially stumped.
"I have no idea, really," said the Scottish-born and -raised plant pathologist. "That's a good question . . . Well, I like 'em!"
It doesn't take long, however, for Kirk to come up with a more introspective response. He started out as a potato roguer – a person who helps prepare a crop for inspection by eliminating diseased plants – at age 25. He had gone to work alongside his wife, Rosalind, at the Department of Agriculture in Scotland. At the time, she was a potato inspector who had followed in the career footsteps of her father.
"So you could say it was truly a labor of love," Kirk chuckled, recounting his family ties to the tuber.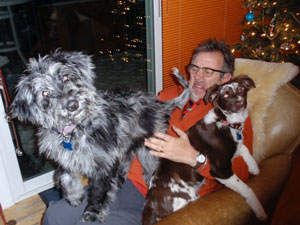 Kidding aside, there's no doubt Kirk has a passion for potatoes. Kirk went on to receive a doctorate in potato crop physiology from the Scottish Crop Research Institute in the United Kingdom, and was subsequently invited to come to Michigan at a critical time for the U.S. potato industry.
"At the time, the pathogen that causes potato late blight -- Phytophthora infestans – had just mutated into a very aggressive strain that swept across the United States in the early '90s," he said.
Kirk accepted the invitation and agreed to work for a year at MSU following the retirement of one of the school's top potato researchers. A year soon turned into four and then several more. Seventeen years later, Kirk has become a highly regarded potato disease expert and researcher, relaying vital information to growers through Twitter, a phone hotline and a website strictly devoted to potato disease.
Question-and-answer profile:
Q: What's your title?
A: MSU associate professor of plant pathology
Q: When did you join MSU?
A: In 1995
Q: What's your hometown?
A: Born and raised in the seaside town of Kirkcaldy, Scotland (home to the Raith Rovers, a soccer team of which I am a lifetime fan.)
Q: Who's your muse or source of inspiration?
A: My wife, Rosalind – of course! We've been married 36 years and have three grown children. She now works for the Michigan Institute for Clinical and Health Research at the University of Michigan. Fortunately, neither I nor my wife are into American sports, so there isn't a Spartan-Wolverine rivalry in the household! There's also a farmer friend of mine whom I admire greatly. I call him "Jim Wilson." He lost his father when he was in his mid-20s. In addition to being a farmer, he has gone on to start a very successful business called "Soil Solutions." Also, Ben Kudwa [executive director of the Michigan Potato Industry Commission and the one who extended the invite to Kirk to come to MSU] is someone who's believed in me over the years.
Q: What's your favorite food?
A: If I can't get authentic Scottish fare – which is very difficult to find in the United States – it's Indian food. But my first choice is Scottish haddock with fresh potatoes and peas with mint.
Q: Best song or group?
A: Early music such as Monteverdi, Bach and Vivaldi; anything Celtic, electronic and cross-over, e.g. Salsa, Celtica, Macumba. It's generally eclectic.
Q: A book you'd recommend?
A: I'm an avid reader, particularly of crime fiction. I just finished the Jo Nesbo series. Scottish authors Christopher Brookmyre and Ian Rankin are a couple of my all-time favorites. I'm rarely without a novel. Val McDermid is also very good, and she hails from Kirkcaldy [one of McDermid's books identifies Kirk's childhood home to a "T," he said – including the tall front shrubs where he used to hide his cigarettes as a teen].
Q: What do you think is the coolest gadget?
A: The computer
Q: What's the best invention?
A: The bicycle
Q: The worst invention?
A: Too many to mention, but for me, the gun and real bullets are a mixed blessing.
Q: What's one thing on your bucket list?
A: The "Bike End-to-End" tour that spans the length of Great Britain from Land's End to John o' Groats, an 874-mile trek that takes most cyclists 10 to 14 days.
Q: Who's someone you'd like to meet?
A: Actors Robert De Niro and Harvey Keitel, and comedian Billy Connolly. I'd also like to say "hello again" to Gordon Brown – a former U.K. prime minister whom I knew as an adolescent. We were in Scouts together for 10 years, from ages 6 to 16.
Q: What was your best vacation or favorite trip?
A: Puerto Rico to visit my son, his wife and my new grandson, who was born in January.
Q: On a Saturday afternoon, where are you most likely to be found?
A: Walking my three dogs – Siberian husky 'Mackay;' miniature Australian shepherd 'McKenzie;' and poodle/Australian shepherd 'Callie.' They're great companions and they help keep me fit. [Kirk has experienced serious health complications in the past couple of years, including two heart attacks and prostate cancer. He also had his thyroid gland removed, which resulted in a paralyzed vocal cord and the loss of his voice for nearly a year. He communicated by "grunting at people."] I also enjoy playing tennis and skiing – cross-country and downhill. I gave up snowboarding 15 years ago when the sport really started to explode.
Q: What's a research breakthrough you'd like to see in the next decade?
A: I guess it's more of a change in perception rather than a scientific breakthrough. I hope that people eventually change their perception of food and energy and how they're produced. Agriculture is not a business that is evil. Instead, it's a way in which we can feed an increasing world population that is facing real issues with starvation. I'd like see an acceptance of mainstream agriculture – particularly the acceptance of new technologies in food and energy production. It's something I can't do myself, but I'd like to help enable these technologies to be used. Specifically, I'd like to see more done with disease- and drought- resistance.