Will Wetzel named MSU WorkLife's Outstanding Supervisor
MSU's outstanding supervisors represent the values and standards that contribute to a supportive workplace culture.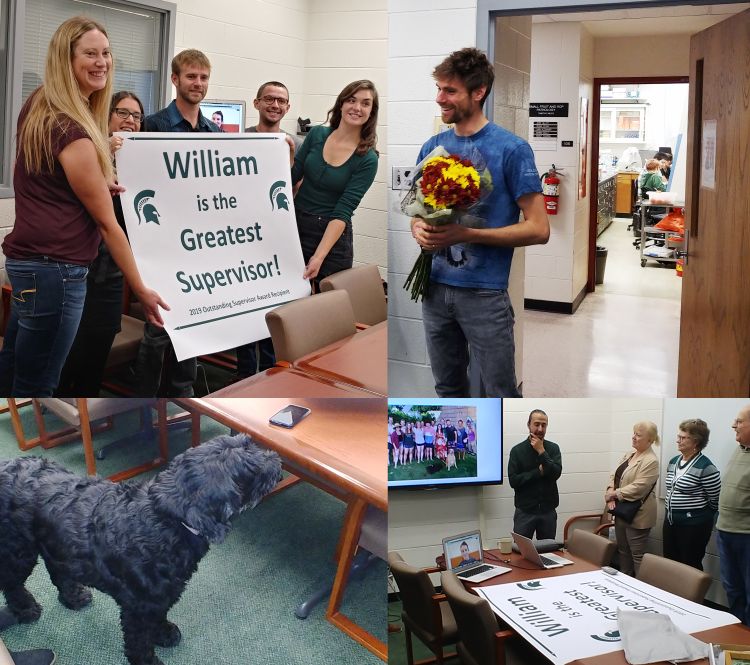 Will Wetzel, assistant professor in the Department of Entomology, was named the 2019 recipient of the Outstanding Supervisor Award from Michigan State University's WorkLife Office. This award honors MSU supervisors who have consistently demonstrated worklife sensitivity and support of the professional and personal needs of the employees in their unit.
Wetzel was nominated by Luke Zehr, manager of the Wetzel lab, who wrote a wonderful letter about how Wetzel gets to know the team on an individual level. "He always treats people as complete humans and takes sincere interest not only in each lab member's professional progress toward goals on a weekly basis, but also encourages others in their various life struggles and accomplishments," said Zehr. "He is the most positive leader I know—always helping others to feel welcomed as a part of our team, respected as a unique and valuable individual, and empowered to accomplish the professional and personal tasks that present themselves."
A surprise celebration was held to present Wetzel with the award. Staff from his lab and several members of the awards committee were present, along with Wetzel's postdoc that lives in the Czech Republic via Skype, and his dog, who especially enjoyed drooling over the cake that was served. Zehr gave a slide show presentation titled "The Joys of Fieldwork" that included photos at the Kellogg Biological Station, and staff shared stories about Wetzel and praised him for the pleasant and productive work environment he creates.
"Will cultivates a lab environment that celebrates holistic scientists," said Dan Turner, PhD student in the Wetzel lab. "With a lab team hailing from multiple states and continents, he encourages us to pursue rigorous ecological research while prioritizing our personal lives beyond insects on plants. Whether at summer barbecues at Kellogg Biological Station or winter cross-country trips at Lake Lansing, Will knows a happy and personally fulfilled lab is a productive one. For me, earning a graduate degree in entomology at MSU means more than studying insects. It is also learning to balance research and life, and Will teaches this lesson well."
Andrea Glassmire, postdoctoral researcher, said, "Dr. Will Wetzel exemplifies a supervisor who actively promotes balancing work and life. He is extremely supportive and easy to talk to because he genuinely cares about us as human beings, not research robots. He communicates, is positive, and is flexible with our work schedule. Will is a great boss and is truly deserving of this award."
Postdoctoral researcher Moria Robinson, who joined the celebration via Skype, couldn't think of anyone else more deserving of the award. "Will is a truly outstanding mentor, putting a remarkable level of thought and care into his interactions with each lab member, from undergraduate assistants to graduate students to postdocs," said Robinson. "Thanks to Will's advocacy for life both within and outside of science, the Wetzel lab is a place where lab members feel supported in taking risks and challenging themselves while also making space for other aspects of their lives. In this way, Will has managed to create a work environment that is fun, rigorous, communicative and very human—in sum, simply a wonderful place to do ecology."
The MSU WorkLife Office provides a one-stop destination for lifespan and career/professional life questions. Each year, members of the MSU community are invited to nominate a supervisor or administrator who consistently supports the worklife (professional and personal) needs of their employees and staff through positive leadership and managerial practices. Recognizing outstanding supervisors sets an example of what makes a good supervisor and serves as a model for others to illustrate what it means to be sensitive to worklife and family circumstances. These outstanding supervisor role models make a positive impact on managerial practices across campus.