Plat Books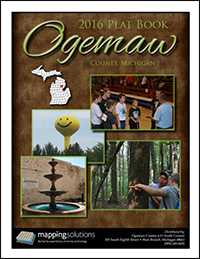 Ogemaw County Plat Books 2016 Edition are sold by the Ogemaw County 4-H Council for $35.00 ($39.00 if shipped)
The money raised from the sale of the plat books helps to fund 4-H programs in Ogemaw County, provides scholarships for local youth to participate in 4-H programs locally and statewide and provides scholarships for high school seniors entering college.
The plat books are available at the Ogemaw County MSU Extension Office, The Ogemaw County Register of Deeds Office, Rose City City Hall and the Ogemaw County Herald Office.
To order an Ogemaw County Plat Book (published in 2016), please fill out this form.