Students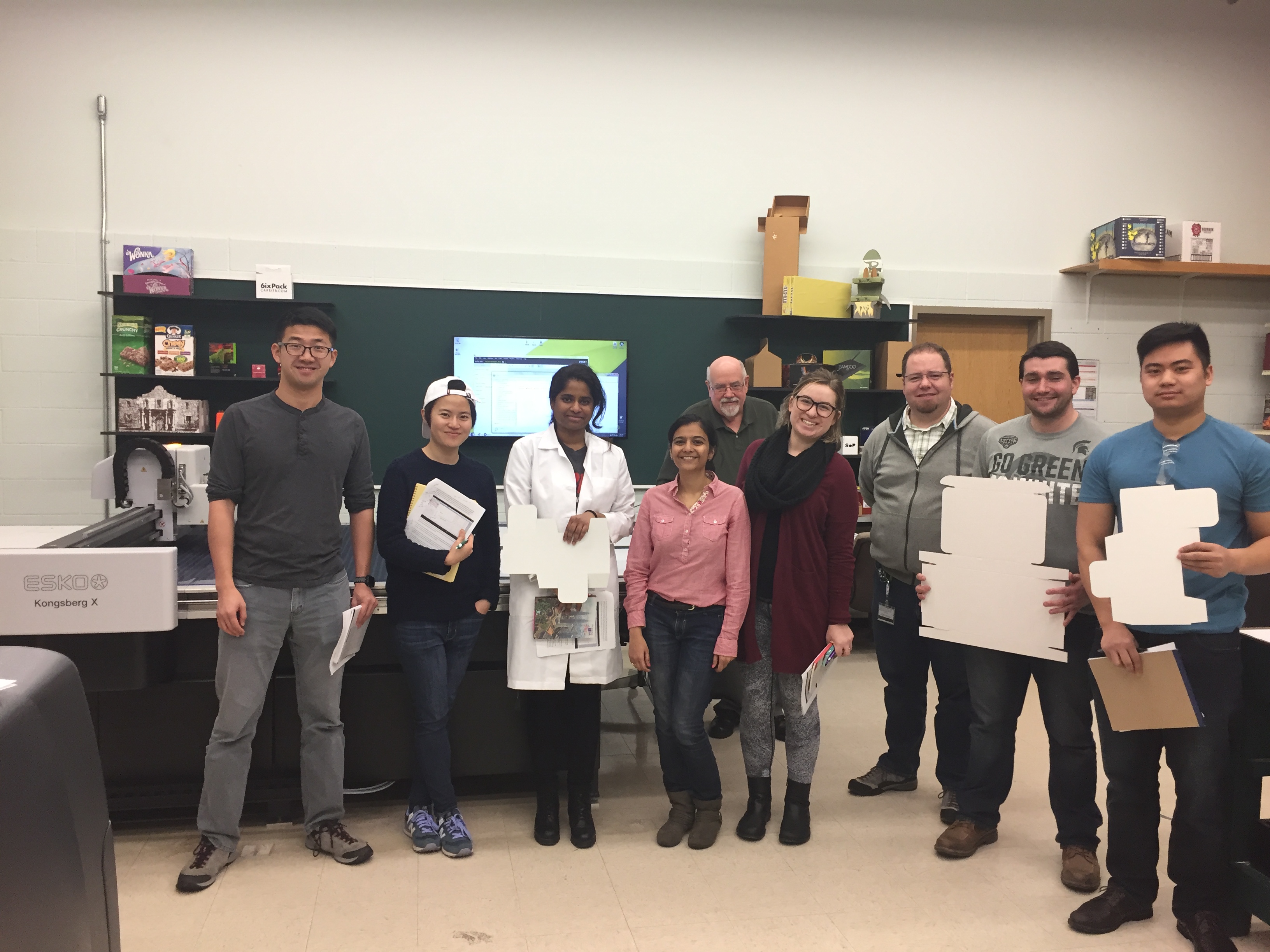 The School of Packaging at MSU offers degree programs tailored to fit the interests and career goals of our students.
Bachelor of Science degrees in Packaging offer students the option to focus on a concentration in packaging science or packaging value chain management.
Graduate programs offer students the opportunity to earn M.S. or Ph.D. degrees. Please contact the faculty/staff representative for each program to obtain additional information.
Online certificates and professional short courses are also offered for industry professionals looking to enhance their education.
Click here to request more information: Degree Inquiry Form
What is Packaging Science?
We all have questions about packaging such as, what is packaging and why is it important to society? We also wonder what the future package will look like, how it will be used and what more can be done to bring sustainability to the forefront of packaging. Learn more about Packaging Science at MSU in a series of videos.
DEGREE PROGRAMS
B.S. Undergraduate Degree Program
The Bachelor of Science program in Packaging offers students the opportunity to develop a program of study which matches their interests and career goals.
Two concentrations are offered: the Packaging Science concentration focuses on the technical needs of packaging while the Packaging Value Chain Management concentration focuses on the role of packaging in the value chain and the need to understand economics and business functions.
More information on these degree programs is available on this website. For further information, contact Undergraduate Advisor Aaron Tucker.
M.S. and Ph.D. Graduate Degree Programs
The Graduate Program in Packaging at Michigan State University offers both master's and doctoral degrees. The Graduate Program involves training and experience in research, teaching, and professional communications with peers, industry and the public. MSU is the only school offering a Ph.D. packaging degree.
The master's degree program offers a master's of science in packaging or an online master of science in packaging. The doctor of philosophy degree in packaging provides a broad education with specialized training in a specific area of study.
To learn more about the Graduate Program, please visit our Graduate page, or contact Graduate Director and Professor Maria Rubino.
CONTINUING EDUCATION

Online Certificates
Two Packaging certificate programs are offered: Certificate of Technical Accomplishment and Certificate of Professional Accomplishment. These programs are designed for professionals working in packaging or a related field who do not wish to pursue the master's degree program but would like to enhance their formal education by earning a certificate from the School of Packaging.
Students in the certificate programs enroll for classes as Life-Long Education students and are not subject to the admission requirements of the master's program. All of the certificate program courses are online courses and are available in either the spring or fall semesters. Learn more about Packaging Online Certificate Programs.
Short Courses for Industry Professionals
A variety of non-credit, short courses are offered throughout the academic year for industry professionals wishing to enhance their education. These courses, taught by MSU School of Packaging faculty, provide hands-on learning experiences that immerse industry professionals into the science of packaging through the same core subjects that our degree-seeking students experience. Learn more about Packaging Short Courses.
STUDENT INFORMATION
Internship and Job Opportunities
Data shows that graduates who have internship experience get jobs more quickly and at a higher average salary than those without. Visit our Packaging Internships web page for internship opportunities and application.
Why choose a career in Packaging? Find out here.
Scholarships
Current MSU Packaging students can visit the Scholarship web page for internal and external scholarship opportunities.
Packaging Help Room
The Packaging Help Room is a place to connect with peers for help and tutoring.