Adam Lock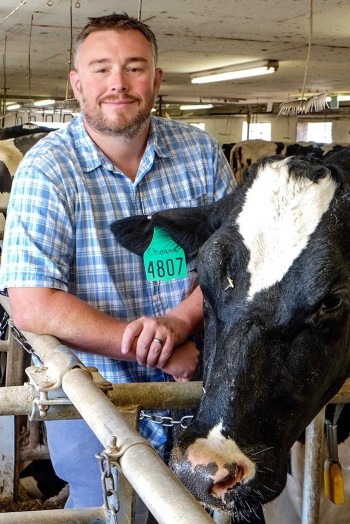 Dairy Lipids Nutrition Program and Laboratory
Professor
Telephone: 517-802-8124

2265H Anthony Hall
Area of Expertise:
Dairy Cattle Nutrition
---
Degree:
BS, (Hons.), University of Nottingham, UK
PhD, University of Nottingham, UK
---

Affiliations
Michigan State University Dairy Lipid/Fatty Acid Nutrition Program
Research and Extension
I am an associate professor in the Department of Animal Science at Michigan State University. Originally from a dairy farm in the southwest of the United Kingdom, I received my PhD from the University of Nottingham and completed a post-doc at that institution as well as at Cornell University. I had a research and teaching appointment at the University of Vermont from 2006 to 2009 before moving to my current research and extension appointment at Michigan State University in the fall of 2009. My research and extension programs focus on both dairy production and human nutrition and health, and the interface between these two disciplines. The central theme is fatty acid digestion and metabolism in the dairy cow and the impact of bioactive fatty acids on animal production and human health. Current efforts concern the effect of diet on the production of biohydrogenation intermediates in the rumen, dietary strategies for maximizing milk fat synthesis, applying this knowledge to improve our ability to troubleshoot on farm issues related to milk fat depression, fatty acid absorption in the small intestine, fat supplementation opportunities, and the potential for omega-3 fatty acids to promote dairy cattle metabolism and health. The impact of milk and dairy products on human health, in particular the role of milk fat is also of special interest.