Animal science student assists in dairy research
Senior uses her experiences in research to pursue interests in different animal science fields.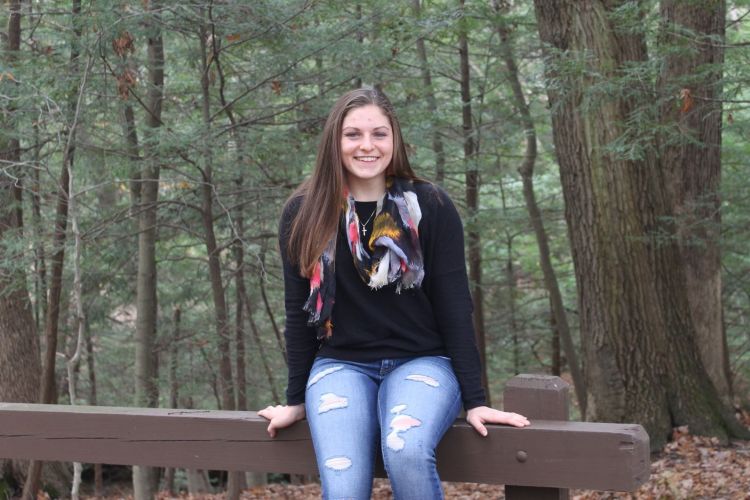 Animal science senior Maria Kloboves is one of the 2020 awardees of the CANR Alumni Association Scholarship. She is interested in the medical and research areas of animal science and will be pursuing graduate school or veterinary school following graduation.
Kloboves has been a research assistant for Dr. Adam Lock in his Dairy Lipids Nutrition Program and Laboratory for two years. In this Department of Animal Science lab, researchers study how dairy cows digest and metabolize fatty acids and the human health implications from consuming milk fat.
As a research assistant, Kloboves started with the basics, such as labeling materials for sample collection and compositing milk, and then she moved into learning more about farm protocols, including blood and fecal sampling.
During the fall 2020 semester, Kloboves and a Ph.D. student are co-running a study on different fatty acid ratios in supplements and the effects on dairy nutrition. She said her research experiences have helped expand her perspective on various career options beyond becoming a veterinarian.
---
Name: Maria Kloboves

Hometown: Solon, Ohio
Major/Concentration: Animal science major with pre-veterinary/animal biology concentration, in the Department of Animal Science
Expected graduation date: Spring 2021
Why did you choose your major and why Michigan State University (MSU)?
I chose my major because I have an interest in animal science due to its versatility in the medical and research fields. I chose MSU because of the opportunities for research involvement for undergraduate students.
What inspired your interest in the animal science major?
My interest in becoming a veterinarian influenced my decision to be an animal science major. However, my research experience has shown me different fields and career opportunities with my degree.
What has been one of your best experiences within your major so far?
My research experience! I have met wonderful people who have given me a place to fit in and grow as an individual and student. My main experiences as a research assistant have been in the lab of Dr. Lock, where I have been a member for two years.
What do you want others to know about the animal science major?
It is versatile. Many students are pre-vet; however, that is not the only application. Animal science can be applied in the agriculture industry, research, human or animal medical fields, and it can be used to segue to an advanced degree in a different science field.
What are some of the best things about being an MSU student?
The best things about being an MSU student are the opportunities to get involved on campus – in or out of your major – where you get to do things that excite you, all while meeting new people! I've also appreciated studying subjects that interest me, meeting my new best friends and going to the MSU Dairy Store.
Any thoughts or advice for current students?
Put yourself out there. Don't be afraid to take challenging courses or try something new. You may not be familiar with a topic or activity, but skipping out on it won't help you grow. Also, ask people for help! Professors and teaching assistants are there to help you and you should use your resources where you can.
What are your future plans?
I am applying to and deciding between graduate school and veterinary school because I would like to pursue a career in research and advancements in animal reproduction.