Milu Muyanga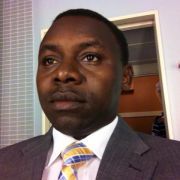 Department of Agricultural, Food, and Resource Economics
Assistant Professor
Rm 206, Justin S. Morrill Hall of Agriculture
East Lansing, MI 48824
Area of Expertise:
Development Economics
---
Degree:
Ph.D., Michigan State University
M.A., University of Nairobi
B.A., University of Nairobi
---
Publications on Google Scholar
Dr. Muyanga joined the department at Michigan State in May 2013 as an assistant professor focusing on international agricultural development. He is appointed in the fixed term system. Muyanga is involved in food policy research and outreach under the Guiding Investments in Sustainable Agricultural Intensification in Africa (GISAIA) grant as well as under the USAID-funded Tegemeo Agricultural Policy Research and Analysis (TAPRA II) project.
His research focuses on agricultural land and water constraints; agricultural markets analysis; and poverty and inequality analysis. Milu is widely travelled and published on agricultural and resource economics. He was the first prize winner of the 2007 Global Development Network's medal on the best research on household exposure to risk theme.
Prior to his doctoral studies, Milu Muyanga worked as a Research Fellow with Tegemeo Institute of Agricultural Policy and Development, Egerton University (Kenya) between 2004 and 2007. Before then he worked as an Economist in the Ministry of Planning and National Development in the Government of Kenya between 1997 and 2003. He is currently working on:
Research and Outreach Interests
Agricultural land constraints in sub-Saharan Africa
Agricultural markets, prices and value chain analysis
Household welfare (poverty, inequality and food insecurity) analysis
Evidence-based agricultural policy processes
Agricultural and rural development programs/projects monitoring and impact evaluation
Tags: c1/c2, c3, c4a, co-principal investigators, fsg apra people, fsp malawi people, fsp tanzania people, fsp zambia people, msu