Maria Porter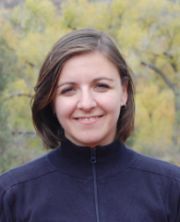 Department of Agricultural, Food, and Resource Economics
Assistant Professor
Telephone: 517-355-2161

446 W. Circle Dr., Rm 301C, Morrill Hall of Agriculture
East Lansing, MI 48824-1039
Area of Expertise:
International Development, Household, Experimental
---
Degree:
Ph.D., University of Chicago
M.A., University of Chicago
B.A., Brown University
---
Publications on Google Scholar
Maria Porter joined the Department of Agricultural, Food, and Resource Economics in 2013 as an Assistant Professor (Fixed-Term). She is currently involved in research projects in Burkina Faso, China, Rwanda, and the United Kingdom, as well as in Michigan. Her research involves work in labor economics, impact evaluation, intra-household labor allocation decisions, factors influencing households' adoption of new crops and agricultural technologies, understanding adult children's motivations for giving transfers and support to parents, and household bargaining between spouses. She employs a variety of research methods, including randomized control trials, laboratory experiments, and survey data analysis. Maria currently advises several AFRE Ph.D. students in international development.
Maria holds a Ph.D. in Economics from the University of Chicago. Before coming to MSU, she was a research fellow at the University of Oxford. She has taught graduate courses in household and development economics, and undergraduate courses in intermediate microeconomics and development economics. She is currently working on Impact Evaluation of the "Scaling Up Sweet Potato Through Agriculture and Nutrition Project.
Research and Outreach Interests:
Household and Family Economics
Labor Economics
Impact Evaluation
Agricultural Technology Adoption
https://sites.google.com/site/mariaporter/
Teaching Experience
ABM 303: Economics of Decision Making: Managerial Economics for the Agri-Food System (Fall 2017)

AFRE 961: Advanced Topics: Agricultural Development Economics (Spring 2017)

AFRE 835: Introductory Econometrics (Spring 2018)