Karl T. Wright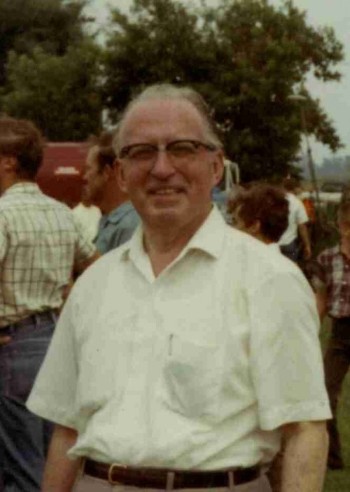 Department of Agricultural, Food, and Resource Economics
Professor Emeritus
AEC/AFRE Faculty, 1929 to 1972

Deceased
Degree:
Ph.D., 1940. Cornell University
M.S., 1929. University of Illinois
B.S., 1924. University of Illinois
---
Bio-Info
Biographical Information
Professor Emeritus, Karl T. Wright was born December 16, 1901 in Walker, Illinois. He was raised on 280 acre farm in central Illinois, near Moweaqua. He married Marguerite Bosworth September 11, 1933. They had one son, Richard.
Dr. Wright graduated from the University of Illinois at Champaign with a B.S. in Agriculture in 1924 and a M.S. in Agricultural Economics in 1929. He completed his Ph.D. in 1940 at Cornell University in Farm Management. He was hired by Michigan State College in 1929 as a Research Assistant in Farm Management and became an Assistant Professor in 1935. This was followed with Associate Professor (1940), Research Professor (1945) and Professor (1949).
In 1951 – 1952, he worked with the US State Department, Economic Cooperation Administration and the British Ministry of Agriculture. In 1952, he returned as a professor in Agriculture at Michigan State University. Recognizing his important role in teaching undergraduate and graduate students, he was awarded a "Distinguished Teacher in Agriculture award at MSU in 1953. Professor Wright taught extensively in the farm management area, and was instrumental in helping develop and teaching for many years a course "Analysis and Presentation of Agricultural Data.
In 1958 - 1960, Professor Wright was named Director of the MSU Advisory Group at the University of the Ryukus, Okinawa. He and family spent two years in residence at the Ryukus Campus. In his leadership role with the Advisory Group, he devoted himself to further development of Ryukus, making every effort to advance agricultural instruction, research and extension to better meet the demands of the people of the Ryukus Islands.
He and family returned to the Department at MSU in 1960. By the time of retirement, Dr. Wright's published works included in excess of 500 titles on farm practices, agricultural development and domestic and international agriculture. He served as editor-in-chief of The First 50 Years: A History of the University Club of Michigan State University. In 1929 Dr. Wright became a charter member of the Faculty Club, precursor of the University Club, and remained an active member for 65 years until his death in 1994. He served on numerous committees, in various offices and as president in 1981-1982. Dr. Wright was active in Farm House Fraternity and served as national president from 1952 through 1954. In 1956 he was the recipient of the highest honor the fraternity bestows, "The Master Builder of Men". Dr. Wright's services were frequently sought as advisor and consultant to members of international governments and agencies. He served members of the US Congress and regional boards in a similar capacity. He was widely sought as a guest lecturer.
Dr. Wright was also a pioneer in helping the Department of Agricultural Economics at MSU gain international exposure and input from the International Association of Agricultural Economics. In 1949 he was selected by the Whitney Foundation, the US Department of Agriculture and the US Council of Agricultural Economists as one of ten official US delegates to International Agricultural Economics Association meeting in Stresa, Italy. At that meeting, Dr Wright offered a special invitation, which was accepted, to the International Association to hold their 1952 International meetings on the campus of Michigan State University, hosted by the Department of Agricultural Economics.
Dr. Wright prepared this statement of his personal philosophy circa. 1976
"I am extremely interested in helping developing nations. One might say I have a missionary zeal in helping others and the sensitivity that goes with establishing a rapport with foreign nationals. My experiences in Great Britain in 1951-1952, Okinawa in 1958-1960, Taiwan in 1957 and 1964, Japan in 1959 and 1972, Korea in 1971-1972 and 1974 and as part time associate to the director of the Michigan State University Institute of International Agriculture in 1975 were challenging, interesting, and greatly satisfying in that I felt my professional qualifications and personal enthusiasm in helping educators and government officials with their many diverse problems were appreciated, helpful, and useful." Dr. Wright regarded the following activities as his most satisfying accomplishments:
- Agricultural Economic Consultant to the University of Nottingham, England
- Institution Building as Administrator at the University of the Ryukyus, Okinawa
- Agricultural Economics Consultant to National Taiwan University and Chung Hsing Univ.
- Agricultural Policy Consultant to the Joint Committee on Rural Reconstruction, Taiwan
- Agricultural Economics Analyst, Korean Agricultural Sector Study
- Agricultural Economics Consultant to Asian Productivity Organization, Tokyo, Japan
- Agricultural Education Consultant to Agency for International Development, Taiwan
- Teaching at Michigan State and the "Distinguished Teacher Award"
In 1972, he became Professor Emeritus, and continued to work in the Department of Agriculture Economics on various domestic as well as international assignments, including providing assistance to development agencies for Korea and other organizations in SE Asia until 1990.
Students
Students Mentored
Pubs Online
Notable Docs/Pres