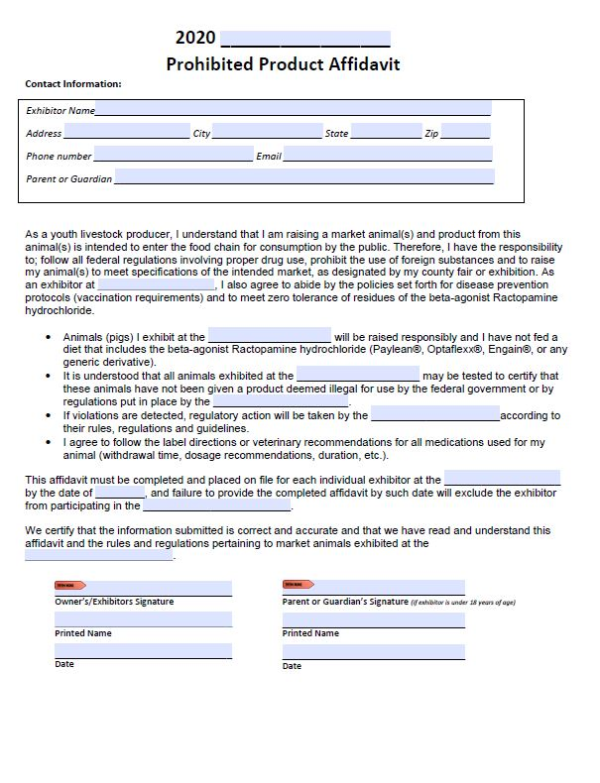 2020 Prohibited Product Affidavit
DOWNLOAD FILE
June 7, 2020 - Author: MSU Extenson
As a youth livestock producer, I understand that I am raising a market animal(s) and product from this animal(s) is intended to enter the food chain for consumption by the public. Therefore, I have the responsibility to; follow all federal regulations involving proper drug use, prohibit the use of foreign substances and to raise my animal(s) to meet specifications of the intended market, as designated by my county fair or exhibition. As an exhibitor at __________________ , I also agree to abide by the policies set forth for disease prevention protocols (vaccination requirements) and to meet zero tolerance of residues of the beta-agonist Ractopamine hydrochloride.

Animals (pigs) I exhibit at the will be raised responsibly and I have not fed adiet that includes the beta-agonist Ractopamine hydrochloride (Paylean®, Optaflexx®, Engain®, or anygeneric derivative).
It is understood that all animals exhibited at the ___________________ may be tested to certify thatthese animals have not been given a product deemed illegal for use by the federal government or by regulations put in place by the ___________________.
If violations are detected, regulatory action will be taken by the according totheir rules, regulations and guidelines.
I agree to follow the label directions or veterinary recommendations for all medications used for myanimal (withdrawal time, dosage recommendations, duration, etc.).
This affidavit must be completed and placed on file for each individual exhibitor at the
by the date of ___________________, and failure to provide the completed affidavit by such date will exclude the exhibitor from participating in the ________________.
We certify that the information submitted is correct and accurate and that we have read and understand this affidavit and the rules and regulations pertaining to market animals exhibited at the ___________________.