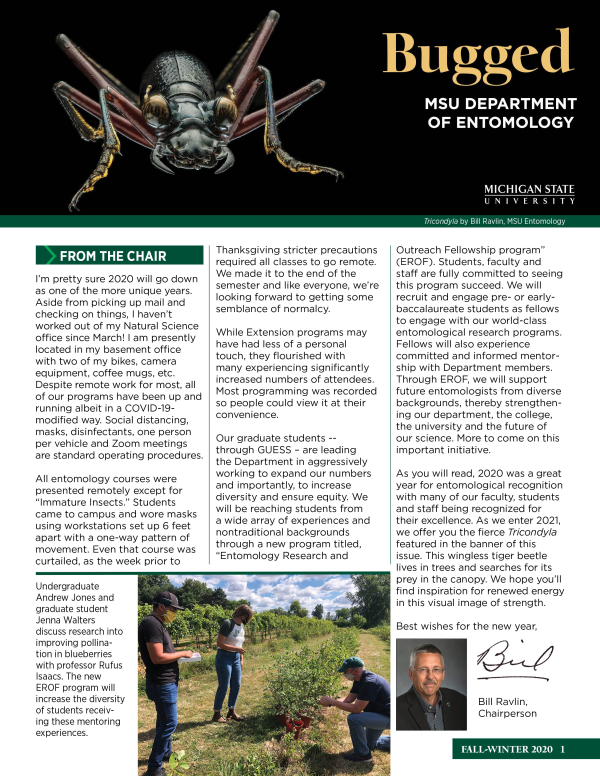 Bugged - Fall/Winter 2020
DOWNLOAD FILE
January 12, 2021
A year full of challenges has come to a close. We are happy to share with you a bit of cheer in the form of news from our faculty, students, alumni and collaborators in this Winter/Fall 2020 issue of Bugged. Read about:
Two faculty securing significant grants. David Mota-Sanchez was awarded a USDA NIFA grant to lead a team training first- and next-generation Latino/a farmers in Michigan. Rufus Isaacs has a new four-year grant from the USDA's Specialty Crop Research Initiative for a multi-state blueberry pollinator project.
National honors for two faculty, Doug Landis and Chris DiFonzo.
Undergraduate student Brenna Jeffs on the importance of the Bug House in her experience at MSU. If you're missing the Bug House, we also have good news about the availability of virtual tours!
A childhood experience that piqued interest in entomology. Graduate student Haosu Cong credits his mother who gave him the gift of a pet cricket.
Diverse opportunities at MSU preparing an alumna for college administration. Olivet College provost Maria Davis describes how a blend of teaching, research, extension and mentoring have given her the skills to navigate her job in leadership.
Thank you to the alumni who have shared their news with us. Learn about their new books, promotions and the national expansion of a sustainable agriculture/pollinator program for veterans. It's all here to share with you in the Winter/Fall 2020 issue of Bugged.