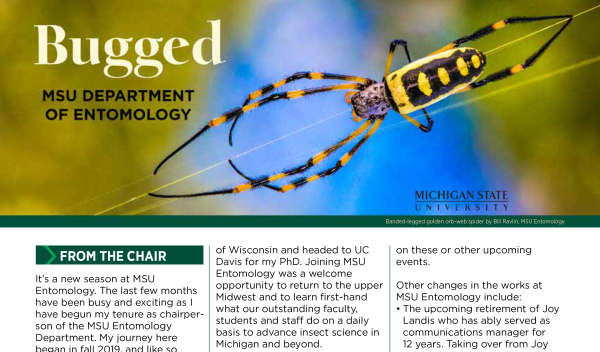 Bugged - Spring 2022
DOWNLOAD FILE
May 9, 2022
Spring is a busy time of year, not only for nature, but also for the Department of Entomology. Here's just a brief sampling of what we've been up to:
We are honored to receive three transformative gifts from Mary Ellen Tatter and her family in honor of Jordan Tatter, a 1960 MSU Entomology graduate. See how these gifts will help transform the department on multiple fronts.
Teams from three entomology labs led by Rufus Isaacs, Julianna Wilson and Marianna Szűcs are collaborating to develop a new biocontrol agent for spotted-wing drosophila (SWD).
Alumni Dan Herms is the 2022 recipient of the department's Distinguished Alumnus Award. Learn more about Herms' path through his diverse and successful career.
The G.W. Bird Family Foundation has been established in the name of George W. Bird with the goal to foster environmentally sound agricultural innovation.
Work has begun on the new Pollinator Performance Center, which will significantly expand MSU's capacity for research, teaching and extension.
We are also proud to announce that Entomology's Business Manager Linda Gallagher is the inaugural recipient of the College of Agriculture and Natural Resources (CANR) Staff Dean's Award of Distinction. Congratulations Linda!
Here's wishing you all a fruitful spring!