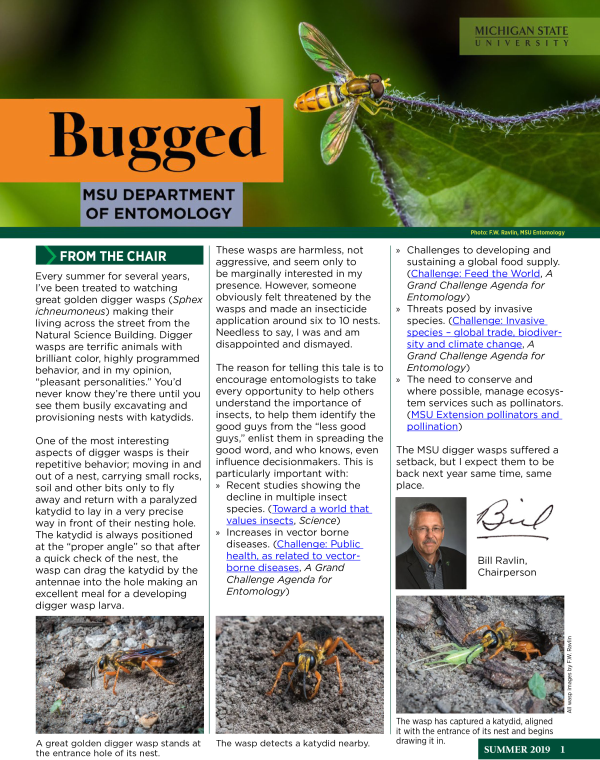 Bugged - Summer 2019
DOWNLOAD
July 30, 2019
We are enjoying beautiful weather along the banks of the Red Cedar on the MSU campus this month. While summer is a quieter time here, our department continues its whirlwind of activities. Check out the Summer 2019 issue of Bugged for a few of the highlights:
Eric Benbow and Jen Pechal are leading a team with a $2.5 million award from NSF to research how the pathogen associated with Buruli ulcer moves in the environment of French Guiana.
Innovative research proposed by Kelsey Graham and Andrea Glassmire has won each a prestigious USDA NIFA postdoctoral fellowship.
Karim Maredia has been named a senior global scholar and the director of agriculture and natural resources international programs in the MSU College of Agriculture and Natural Resources. He is also an institutional lead for MSU on a five-year, $30 million grant from the U.S. Agency for International Development to establish an Egyptian Center of Excellence for Agriculture.
Enjoy the photos from our Department awards reception where we honored our 2019 Distinguished Alumnus Gloria DeGrandi-Hoffman.
Undergrad Megan Andrews notes that working with Juan Huang and Chris Adams in Larry Gut's lab convinced her to pursue studies in entomology. Graduate student Max Helmberger uses clay animation and games as a creative means to present soil and insect ecology to non-science audiences.
Anthony Cognato and Gary Parsons share the curious preservation techniques used in the 1880s when arthropod research museum founder J. Cook was building the collection.
There's more, but we'll let you explore the issue for yourself.