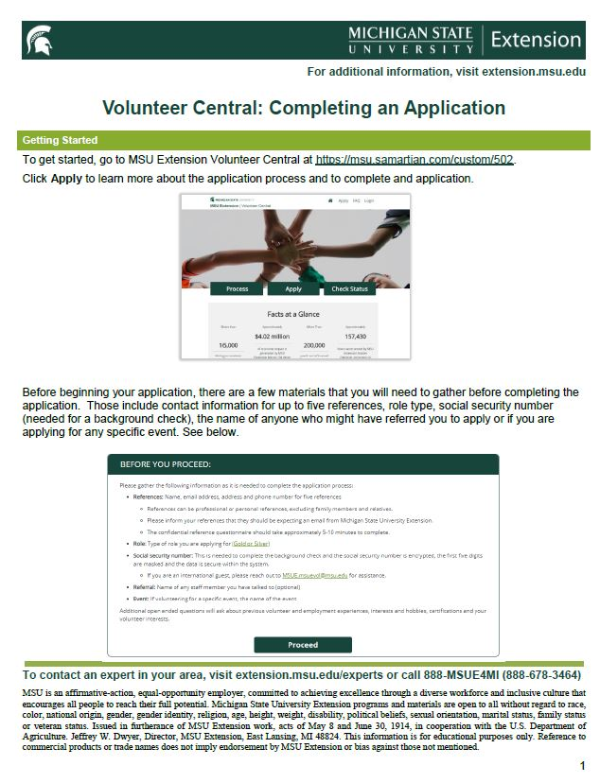 Completing an Application
DOWNLOAD FILE
October 28, 2020 - Author: Michigan State University Extension
Getting Started
Before beginning your application, there are a few materials that you will need to gather before completing the application. Those include contact information for up to five references, role type, social security number (needed for a background check), the name of anyone who might have referred you to apply or if you are applying for any specific event.
Applicant Profile
After clicking Proceed, you will see a screen with the title Applicant Profile. You'll need to read through the Acknowledgements and Backgroundchecks.com information. Be sure to respond to the Yes/No question at the bottom of the screen to proceed.
Upon clicking No, you will be redirected to a home page with further information.
Upon clicking Yes, you will be directed to the application where you will enter User Information, Personal Information, Emergency Contact Information, Experiences, and information about Volunteering with MSU Extension. Any fields with a red asterisk (*) indicate that the information is required. Complete the fields without the red asterisk as thoroughly as possible.
At the bottom of the page you will see information about form submission and next steps.
Upon clicking Proceed to Next Steps, you will see the "Thanks for applying as a volunteer" screen. Click on thte Volunteer Dashboard button to complete the authorization for your background check, Code of Conduct/ Media/ Medical Release agreement, and trainings.
The Volunteer Dashboard
The Dashboard you see will look similar to the image below. Click on the button Give Consent to move through the consent and authorization information.
In this Dashboard, you can also track the progress of your application.
When all steps are complete, the checklist will disappear.
Email
Please be sure to check your e-mail and look for a new e-mail from MSU Extension with the subject Thank you for applying! The e-mail address you provided in your application will be used by MSU Extension Volunteer Central to inform you of important updates to your application process and annual volunteer compliance. If you do not see an e-mail from MSU Extension, please check your spam/trash folder.
Need Help?
For assistance, please visit samaritan.com/custom/502/#/contact to submit questions or contact your local MSU Extension staff person. To see a staff directory, visit https://canr.msu.edu/outreach/experts/.