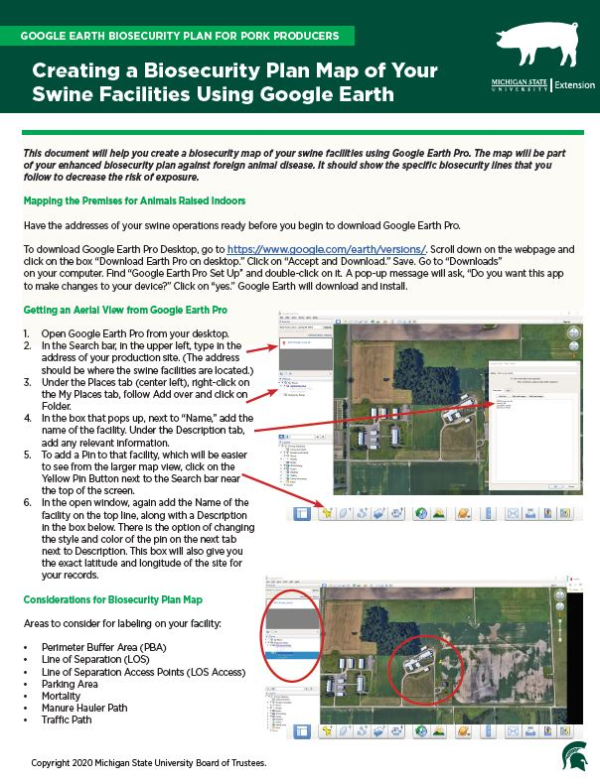 Creating a biosecurity plan map of your swine facilities using Google Earth
DOWNLOAD FILE
March 8, 2020 - Author: Casey Zangaro, Michigan State University
Mapping the Premises for Animals Raised Indoors
Have the addresses of your swine operations ready before you begin to download Google Earth Pro.
To download Google Earth Pro Desktop, go to https://www.google.com/earth/versions/. Scroll down on the webpage and click on the box "Download Earth Pro on desktop." Click on "Accept and Download." Save. Go to "Downloads" on your computer. Find "Google Earth Pro Set Up" and double-click on it. A pop-up message will ask, "Do you want this app to make changes to your device?" Click on "yes." Google Earth will download and install.
Getting an Aerial View from Google Earth Pro
Open Google Earth Pro from your desktop.
In the Search bar, in the upper left, type in the address of your production site. (The address should be where the swine facilities are located.)
Under the Places tab (center left), right-click on the My Places tab, follow Add over and click on Folder.
In the box that pops up, next to "Name," add the name of the facility. Under the Description tab, add any relevant information.
To add a Pin to that facility, which will be easier to see from the larger map view, click on theYellow Pin Button next to the Search bar near the top of the screen.
In the open window, again add the Name of thefacility on the top line, along with a Description in the box below. There is the option of changing the style and color of the pin on the next tab next to Description. This box will also give you the exact latitude and longitude of the site for your records.
Considerations for Biosecurity Plan Map
Areas to consider for labeling on your facility:
• Perimeter Buffer Area (PBA)
• Line of Separation (LOS)
• Line of Separation Access Points (LOS Access)
• Parking Area
• Mortality
• Manure Hauler Path
• Traffic Path