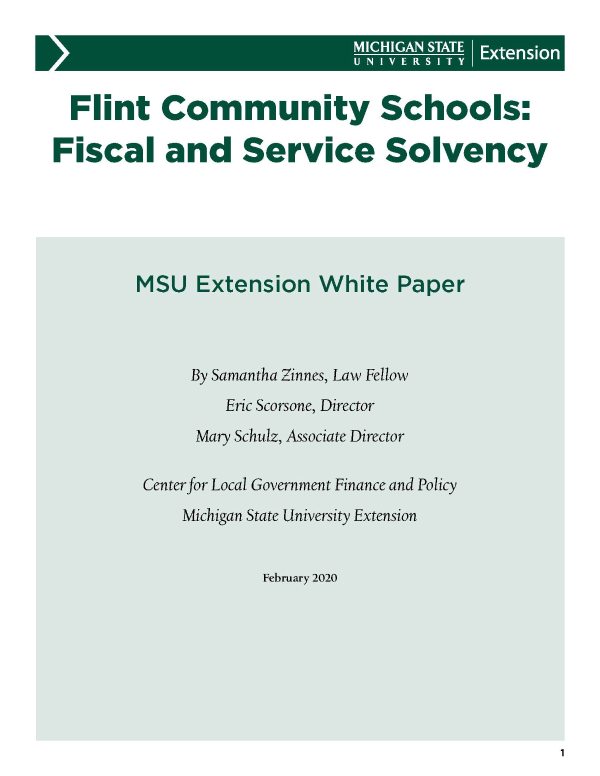 Flint Community Schools: Fiscal and Service Solvency: MSU Extension Center for Local Government Finance and Policy White Paper
DOWNLOAD FILE
February 3, 2020 - Author: Samantha Zinnes, Eric Scorsone and Mary Schulz, MSU Extension Center for Local Government Finance and Policy
Flint Community Schools faces a significant financial challenge that goes back to the end of the Great Recession in 2010 and 2011. Since 2011, Flint School District has run an operating deficit of nearly $67 million. During the past nine years, the school district has only managed to successfully run an operating surplus once. During those same years, the school district has used one-time monies of over $53 million to try and plug the budget gap. As of June 30, 2019, the school district had an overall net negative fund balance (or savings) of $2.5 million. A negative fund balance is not allowed under state law and has triggered a series of required reporting and state oversight once again.
After accounting for one-time fixes and other transitory flows, the school district is estimated to run an on average structural deficit of $8 million. This structural deficit does not necessarily mean that the district would be spending enough to properly provide an education to the students of Flint.
An adequacy study is designed to estimate what amount of funding per student would be needed to ensure an appropriate education for each child across many different types of school districts.