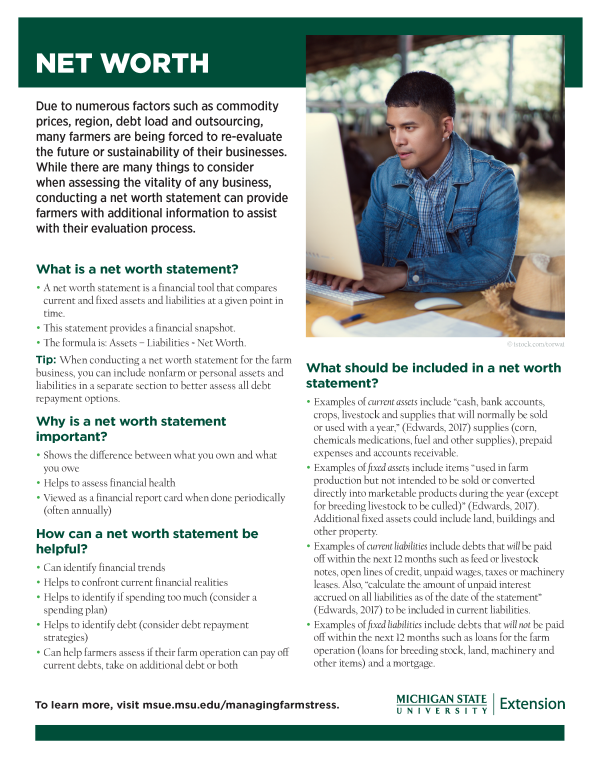 Helping Farmers Understand Net Worth
DOWNLOAD
June 19, 2019 - Author: Jinnifer Ortquist, Michigan State University Extension
Due to numerous factors such as commodity prices, region, debt load and outsourcing, many farmers are being forced to re-evaluate the future or sustainability of their businesses. While there are many things to consider when assessing the vitality of any business, conducting a net worth statement can provide farmers with additional information to assist with their evaluation process.
What is a net worth statement?
A net worth statement is a financial tool that compares current and fixed assets and liabilities at a given point in time.
This statement provides a financial snapshot.
The formula is: Assets – Liabilities = Net Worth.
Tip: When conducting a net worth statement for the farm business, you can include non-farm or personal assets and liabilities in a separate section to better assess all debt repayment options.
Why is a net worth statement so important?
Shows the difference between what you own and what you owe
Helps to assess financial health
Viewed as a financial report card when done periodically (often annually)
How can a net worth statement be helpful?
Can identify trends
Helps to confront current financial realities
Helps to identify if spending too much (consider a spending plan)
Helps to identify debt (consider debt repayment strategies)
Can help farmers assess if their farm operation can pay off current debts, take on additional debt or both.
What should be included in a net worth statement?
Examples of current assets include "cash, bank accounts, crops, livestock and supplies that will normally be sold or used with a year," (Edwards, 2017) supplies (corn, chemicals medications, fuel and other supplies), prepaid expenses and accounts receivable.
Examples of fixed assets include items "used in farm production but not intended to be sold or converted directly into marketable products during the year (except for breeding livestock to be culled)" (Edwards, 2017). Additional fixed assets could include land, buildings and other property.
Examples of current liabilities include debts that will be paid off within the next 12 months such as feed or livestock notes, open lines of credit, unpaid wages, taxes or machinery leases. Also, "calculate the amount of unpaid interest accrued on all liabilities as of the date of the statement" (Edwards, 2017) to be included in current liabilities.
Examples of fixed liabilities include debts that will not be paid off within the next 12 months such as loans for the farm operation (loans for breeding stock, land, machinery and other items) and a mortgage.
What will I learn from a net worth statement?
"The difference between total farm assets and total farm liabilities is the net worth, or equity, at the time the statement is made. It is the current value of your own investment in the farming operation" (Edwards, 2017).
A completed net worth statement can also assist with making financial decisions, financial goal setting (for expansion or paying down debt) and can even assist with loan applications since many lenders will solicit the information found on a net worth statement. Even a positive net worth statement may unveil some financial concerns, such as low liquidity. This is the inability to convert assets into cash in the event of an emergency or unplanned decreased income. Consider completing your net worth statement today!
Recommended Resources:
References:
Edwards, W. (2017). Your net worth statement. Ag Decision Maker (C320). Ames: Iowa State University Extension and Outreach. https://www. extension.iastate.edu/agdm/wholefarm/html/c3-20.html