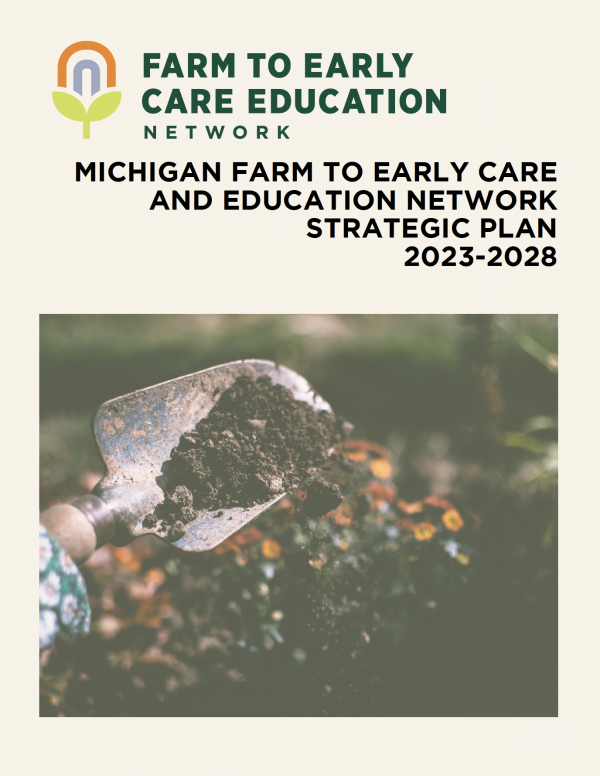 Michigan Farm to Early Care and Education Network Strategic Plan 2023-2028
DOWNLOAD
August 30, 2023 Author: Meagan Shedd
The Michigan Farm to Early Care and Education (ECE) Network worked with nearly 200 early care and education providers, farmers and food producers, and families of young children and over a dozen partner organizations including ECE professionals, public health entities, non-profits, universities, and other state agencies to inform the 2023-2028 farm to ECE strategic plan. This plan was developed across group and individual virtual meetings from December 2022 through June 2023.
This strategic plan builds upon the existing mission, vision, and equity vision to include two broad goals:
Goal 1: MI ECE providers increase their knowledge, awareness, and utility of resources, staff, coaching, and mentors that support expanded farm to ECE programming.
Goal 2: The MI Farm to ECE Network will grow and strengthen partnerships to sustain the community of farm to ECE.
These goals have corresponding strategies along with short-term, middle-term, and long-term activities to realize them. Further, the group agreed that this method would best meet the Michigan Farm to ECE Network's overarching vision of children ages 0-5 growing, choosing, and eating nutritious local food in Michigan early care and education settings.