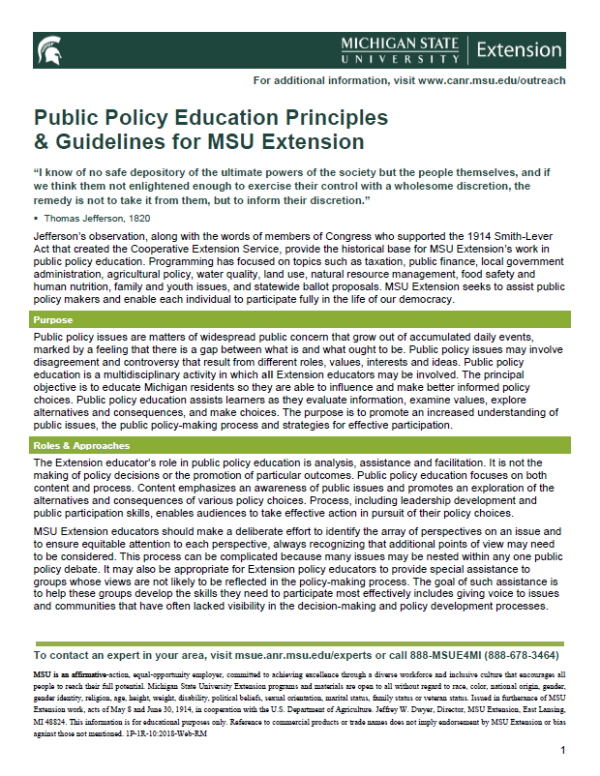 Public Policy Education Principles & Guidelines for MSU Extension
DOWNLOAD
December 1, 2018
Public policy issues are matters of widespread public concern that grow out of accumulated daily events, marked by a feeling that there is a gap between what is and what ought to be. Public policy issues may involve disagreement and controversy that result from different roles, values, interests and ideas. Public policy education is a multidisciplinary activity in which all Extension educators may be involved. The principal objective is to educate Michigan residents so they are able to influence and make better informed policy choices. Public policy education assists learners as they evaluate information, examine values, explore alternatives and consequences, and make choices. The purpose is to promote an increased understanding of public issues, the public policy-making process and strategies for effective participation.
The MSU Extension educator's role in public policy education is analysis, assistance and facilitation. It is not the making of policy decisions or the promotion of particular outcomes. Public policy education focuses on both content and process. Content emphasizes an awareness of public issues and promotes an exploration of the alternatives and consequences of various policy choices. Process, including leadership development and public participation skills, enables audiences to take effective action in pursuit of their policy choices.
MSU Extension educators should make a deliberate effort to identify the array of perspectives on an issue and to ensure equitable attention to each perspective, always recognizing that additional points of view may need to be considered. This process can be complicated because many issues may be nested within any one public policy debate. It may also be appropriate for Extension policy educators to provide special assistance to groups whose views are not likely to be reflected in the policy-making process. The goal of such assistance is to help these groups develop the skills they need to participate most effectively includes giving voice to issues and communities that have often lacked visibility in the decision-making and policy development processes.