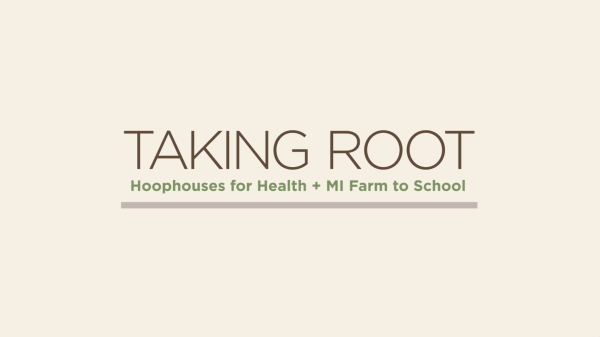 Taking Root: Hoophouses for Health + MI Farm to School Video Series
August 30, 2018 - Author: Colleen Matts, Michelle Gagliardi, Rebecca Faivor, Amanda Shreve, and Dan Hartley
This series of five short videos shows how the innovative combination of Hoophouses for Health and MI Farm to School works from every angle. When paired together, the loans and grants provided through these programs are investments that work twice: to increase good food access for vulnerable children and families and to help farmers succeed.
Hoophouses for Health, which has been administered by the Michigan Farmers Market Association since 2011, increases access to healthy, local food for vulnerable families while also increasing farmers' season extension capacity. The MI Farm to School Grant Program, which operated from 2011-2018 through CRFS, aimed to help early care and education (ECE) sites and school programs offer more healthy, local foods to vulnerable children. These videos illustrate the measurable, lasting impact of these two projects paired through Taking Root, a project model adaptable to communities of any size.
These videos were produced by Dan Hartley of Dan Hartley Video LLC.
---
Taking Root: Hoophouses for Health and MI Farm to School Overview
Taking Root: Farm fresh school food
Bluestem Farm and Boyne Falls Public Schools
Taking Root: Season extension is working for farm business
Hillcrest Farm
Taking Root: From the garden to the childcare lunch table
A&W Child Care
Taking Root: A family accesses healthy, local foods and stretches dollars further at a farmers market
Hoophouses for Health participating family