Chamber of Commerce Takes 20 Percent Local Lead
Traverse City Area Chamber of Commerce pledges to purchase 20 percent of food from Michigan.
March 2, 2012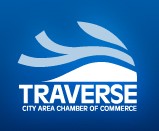 By Patty Cantrell, Regional Food Solutions, LLC
Communities and organizations across the state are taking up the Michigan Good Food Charter's goal of 20 percent of food purchased in the state coming from Michigan sources by 2020.
The five-county Traverse City Area Chamber of Commerce is the latest with a new campaign to move 20 percent of the $1 billion that the chamber and other event planners in the region spend annually on food to come from local farms.
"This 20 percent commitment will add a huge amount of resources —­ $200 million — to this area's agricultural community and really provide some sustainability for it," said Phil Franzo, director of the chamber's Traverse Bay Economic Development Corporation.
The Chamber kicked off its 20-percent-local campaign February 22 with a big party featuring local food, beer and wine for event planners and other frequent meal organizers. Joining the Chamber in launching the event and the campaign are Northwestern Michigan College and Events North, a major event planning business.
"Our goal is that by making this a requirement of doing business with the Chamber that it will get our vendors to start buying local food as part of doing business," said Laura Oblinger, chief operating officer at the chamber.
"Hopefully over time we won't even need to make the request." Oblinger added, "The broader goal for the Chamber goes beyond just local food, but retaining our local dollars in our community."