Detroit Students Transform Their Lives through Food and Entrepreneurship
Detroit Food Academy uses food and social entrepreneurship as a way to provide students with tools to become confident and holistic leaders in their lives, schools, and communities.
February 9, 2016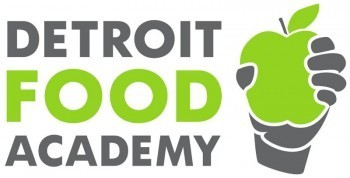 By Sam Loscalzo, Michigan Good Food Charter Graduate Assistant and Liz Gensler, MSU Center for Regional Food Systems
It's a brisk 32 degrees outside but Detroit Food Academy's (DFA) Hassan Almaleki and DeShawn Lindsay are braving the elements at Detroit, Michigan's Eastern Market to sell Mitten Bites, a healthy snack product created by DFA students. Almaleki is an alumnus of DFA and Lindsay is one of over 200 high school and middle school students who participated in DFA's experiential leadership programming this past fall.
DFA uses food and social entrepreneurship as a way to help students become confident and holistic leaders in their lives, schools, and communities. At every step of the way, students develop math and literacy skills, build relationships and learn perseverance.
Through the afterschool Academy program, students learn about culinary arts and nutrition during the fall semester. At the end of the semester, students budget for and plan a community meal which they share with friends and families. The spring semester is focused on developing a food-related business based on the triple bottom line of people, planet, and profit. At the end of the year, students pilot their business ideas at a school event.
In the summer, Academy graduates can apply for a six-week paid internship and pursue one of two tracks – Food Entrepreneurship or Culinary Arts – during which interns are mentored by local chefs and business owners to further hone their crafts.
From left to right are Detroit Food Academy's Hassan Almaleki, Angela Abiodun, and DeShawn Lindsay. Photo courtesy Sam Loscalzo.
Eleventh grade DFA student Nonnie Williams joined the program two years ago because her best friend signed up and "It looked really interesting. I was really just going to learn how to cook but I learned much more than that. Not only has it taught me about food but through me, I've been able to inspire other people and even my family."
This December, Williams and other DFA students were hired to host a holiday party. She was very nervous but DFA mentors taught them what they needed to be successful and Williams reported that, "It was just a great experience." Williams is now much more confident that she can handle future food business endeavors.
"Parents are always telling us how their students are becoming more confident in their ability to speak and lead each other," said Angela Abiodun, DFA's Director of Programs. Their ability to succeed in school also improves because they are "trying, attempting and finding new ways to solve problems through the cooking and business process."
Soon DFA will roll out their Small Batch Fellows program to provide greater assistance to students who would like support in "figuring out what their next steps will be. Those next steps can be going to school, finding a job in the city, starting their own business; whatever the next steps are for the students," explained Abiodun. "We want to make sure not to box them into what their options can be."
After Williams completes DFA's programs and graduates from high school, she is considering a degree in culinary arts with a minor in nutrition. While she is uncertain just what career she will pursue, she is confident in her future and says, "I feel like I can live a healthier life now and I know pretty much that I can do anything with DFA. There are endless opportunities and you meet so many people."
Detroit Food Academy logo from http://detroitfoodacademy.com/.