Dietetic Interns Ask, What Is Good Food?
Editor's Note: The following article shares the work of Western Michigan University students who took steps toward developing a tool to assess whether food items qualify as "good food."
July 1, 2012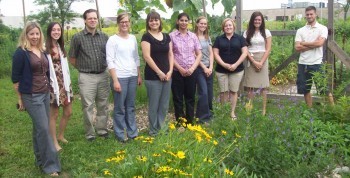 By Caroline Webber, PhD, RD, Associate Professor and Dietetic Internship Director, Western Michigan University and Carol Pratt, MS, RD, CJP Consulting LLC
Nine dietetic interns at Western Michigan University (WMU) explored the meaning of "good food" this past year by examining the definition laid out by the Michigan Good Food Charter and considering its application.
Health practitioners and the public are recognizing that good nutrition starts well before sitting down to a meal. Decisions made by consumers regarding where and how to shop for food influence nutrition outcomes. We wondered if a simple rating system based on "healthy, green, fair, and affordable" from the Michigan Good Food Charter could be devised to help consumers in this process.
First, interns investigated multiple meanings of each of the four terms used by the Michigan Good Food Charter to define "good food." To do this, we used accepted peer-reviewed food and health literature and followed content analysis methods. Based on these extended definitions, we developed questions that consumers might ask when acquiring food in order to assess if a food item met that aspect of the "good food" definition:
Healthy (we used the term "healthful"): "It provides nourishment and enables people to thrive."
1. Is the food close to its original form (minimally processed or with minimal additives)?
2. Does the food item contribute to a variety of lean meat or meat substitutes, whole grains, vegetables, fruits, reduced-fat dairy and healthy oils within your usual diet?
3. Will this item be consumed in moderate portions along with other healthy foods as recommended by MyPlate.gov?
Green: "It was produced in a manner that is environmentally sustainable."
4. Is the food local, from within Michigan?
5. Is the food item Fair Trade, organic, or similarly designated certified and labeled?
6. Can the consumer recycle the item's packaging (if there is any)?
Fair: "No one along the production line was exploited during its creation."
7. Are the company's policies, standards, audits, and certifications transparent (e.g., on a label or website)?
8. Does the company or producer practice equitable trading practices (e.g., fair payment for raw goods, fair retail prices)?
9. Does the company or producer provide healthy, safe working conditions for employees?
Affordable: "All people have access to it."
10. Is the item within the consumer's price range?
11. Is it accessible by being sold within 25 miles of your home?
12. Is the item sold in both small and large grocery stores?
Finally, we applied the questionnaire to a WMU cafeteria test menu to validate the questions, confirming the difficulty of obtaining accurate answers about individual food items, even by dietetic interns. We recognized that most consumers could not answer several questions, particularly those connected with fairness, unless buying directly from the producer. The importance of transparency among all segments of the food system was determined to be an area needing more work and advocacy for this to happen.
Although the above questions are based on accepted definitions of healthy, green, fair, and affordable, further work needs to be done to validate a consumer questionnaire based on these or similar questions and its ability to measure "good food" outcomes at point of purchase. We may continue in this area next year. A wiki was started in order to carry out work between monthly meetings and will be carried forward to use with next year's class.
The WMU dietetic internship is a 40-week, post-baccalaureate program designed as the final training step to become a registered dietitian.