FarmRaiser: reinventing the school fundraiser
A new business called FarmRaiser is providing Michigan schools with an alternative to traditional junk food fundraisers.
November 3, 2014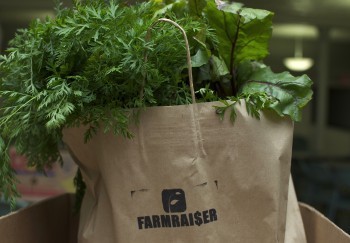 Tired of school fundraisers that feature only unhealthy processed foods? Up to your ears in candy bars and cookie dough you didn't need? You're not alone! A new business called FarmRaiser has provided an alternative, so that schools are no longer limited to sugar and junk food as a means of raising money – through FarmRaiser they now can choose from a host of seasonal veggies, fresh Michigan apples, dried cherries, locally roasted coffee, and other quality whole food goods. While selling these local and healthy products to friends and neighbors, students involved in FarmRaiser campaigns learn about the importance of healthy eating and knowing where their food is coming from. They are not only raising funds, but also raising a generation of conscientious eaters. All while simultaneously supporting the local economy and exposing quality local products to new potential customers.
A school FarmRaiser poster. Photo courtesy of Christina Carson.
Leelanau Montessori in Suttons Bay, MI has thoroughly embraced the mission of FarmRaiser. They jumped on board during FarmRaiser's first fall in business, and will be conducting their fourth FarmRaiser campaign this November. On average, they sell over $3,000 of local goods during each campaign and have had an overwhelmingly positive response from their school community. Parents love the option of being able to purchase healthy, local food for their families, and feel good about asking others to support their fundraising efforts. Students get excited about selling delicious products - some of which are even grown or made by their classmates' families! Campaign vendors report that supporters of the school fundraisers often visit them at area farmers markets to purchase more of the products they were introduced to through FarmRaiser.

If you're interested in learning more about this organization or want to bring a FarmRaiser campaign to your school, head to FarmRaiser's website or contact Terra Bogart, FarmRaiser's Michigan Campaign Coordinator by email or phone: Terra@farmraiser.com or 231-486-5322.