Good Food Life: Devon Wilson
Devon Wilson is Founder of Sunlight Gardens in Battle Creek, an alumnus of the Michigan State University Organic Farmer Training Program, and winner of the Michigan Good Food Fund Battle Creek Bootcamp Pitch Competition.
March 2, 2017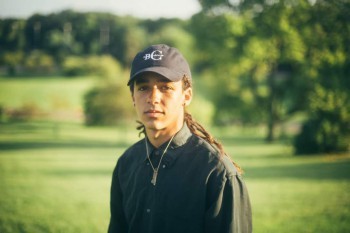 What is your role at Sunlight Gardens?
DW: My work at Sunlight Gardens is different depending on the season. This time of year, before the beginning of the growing season, I am meeting with restaurants, doing market research and analysis on the markets I'm planning on going to, looking for new opportunities and new markets, and figuring out what foods I am going to grow and where 'm going to grow them. I make my farm plan based off of that information. In March, we are sowing seeds and getting transplants ready. We do our big planting then, in the beginning of the season, then tend to the plants we have in greenhouse after that. In mid-April and May we begin harvesting and selling to Sprouts Food Hub, which buys year round local vegetables.
Later in the season, during market season, we harvest two times per week and sell at the market. Harvesting also includes cleaning and packaging the produce to take to the markets.
On a daily basis, there is routine farm maintenance to do and weeding is a huge part of my day! However, this year we have a walk behind tractor and more tools at our disposal, which will free up time and we will have more time to do other stuff. This time freed up will be used to do more community outreach, offering workshops and educational experiences at the farm
Sunlight Gardens also sources foods to two local restaurants—Umami Ramen and Torti Taco. Both of these are new restaurants with good food, whose owners are interested in buying local and want organic if possible. Before planting season, I meet with the restaurant owners and show them a seed catalog, which they then show to their chef. They decide if they want to do some sort of summer special or if they want to try a new pepper or tomato. I ask them to give feedback, how much of something they'll want per week, then I tell them how much I'll be able to give them each week and for how long. In this way we can work as a team and really have what they need when they need it. These are entrepreneurs that want to work with farmers.
How does Sunlight Gardens work towards the goals of the Good Food Charter?
DW: We always include our community in what we do. We always accept volunteers and give people food for the time they help out. Often times there will be kids playing outside who wonder what we're doing; they stop over and they're interested, they want to get their hands in the dirt. We open our doors to them and give them a tour of the farm, let them know what we do. We give kids a way to experience something they normally wouldn't see. I grew up in a community like this one, where you didn't see anything except corner stores. You never saw farms. To be able to walk up and see an urban farm is very powerful.
I want to add an educational aspect to the farm. Once a month I want to have a big farm tour and workshop afterwards. I want to show community members the full circle of planting, harvesting, and preparing food by having a chef from a local restaurant be at the workshop to cook for a day and use the food we grow. I want to show kids what food can turn into. Lettuce or turnips may seem boring, but prepared in a dish and crafted into a meal, it takes a whole new life and this makes me and others happy and grateful for it.
Kids of all ages and adults are interested in volunteering at Sunlight Gardens. There is a family across the street who has 7 kids and they all come over and want to help weed. Even though they have a trampoline across the street, they still want to come over and see what we're doing because they have fun. We have given tours to elementary classes all different grades and to high schoolers. That's where seeing your food prepared is important, because seeing the final product is cool. The aim of the educational workshops will be to make farming cool!
What do you find most exciting or inspiring about what you're doing?
DW: An exciting thing is definitely seeing our food prepared by chefs. It's amazing to me because I'm not a cook, but when these chefs who are passionate about food and flavor make something with what we grew, I helped grow, that's exciting to me and inspiring. That's a huge part about why I do what I do.
The most exciting thing is being able to take control over what I'm eating, and what my family members and community are eating. I grew up in community similar to where I'm living and working now. You don't see anything about where your food comes from when you come from a community like that—you just go to the grocery store or liquor store and get food off the shelf that has little to no nutrient value. You're not taught about healthy food in school or shown how to grow your own food.
It's inspiring to be a leader in this movement, to take control of our food system and prove that we can be self-sufficient and grow at least 75 percent of what we eat. It's inspiring to be able to create something that I would have liked to have when I was a kid growing up. If I'd seen a farm with fruit and vegetables when I was growing up, that would have changed my life. It's pretty dire that we get our diets correct because people are getting sick. We need to figure out how to solve this, and it starts with people taking the risk of trying to make money off growing food and helping each other become educated about what is best for our bodies.
What opportunities or goals do you envision for Sunlight Gardens in the next five to ten years?
DW: The farm is evolving so much. In the next 5-10 years, I am definitely interested in making Sunlight Gardens a cultural space. I am starting to do that a little this year by planning a concert/ food festival at the farm in mid-July. I'd like the farm to be a cultural space of art, music and food! I want to build a hoophouse and make it a place to hold events, have concerts and dances, and farm to table dinners. I'd like to change the way a farm is looked at by making it into something that it more normal in a community and fun, more than what you see on many commercial farms which is just hard work and spraying chemicals. I also want to plant a lot of trees, shrubs and perennial herbs on the property, eventually give it a permaculture aspect. And I would like the farm to be community run, both feeding the community and paying people in the community.
How did the MSU Organic Farmer Training Program benefit you?
DW: The Organic Farmer Training Program (OFTP) helped me tremendously with being able to plan a farm better.* The instructors gave us a lot of documents and spreadsheets that made it a lot easier to do things like calculate bed feet, how many feet you need to grow something. The planning tools were really good. It was also great being around and working with smart people who are passionate about farming, and just soaking up the information. I made many connections—we all became friends, and now we can collaborate and do projects together which is really cool. I also liked the "study-a-farm" visits we did, where we visited other farms, took tours, and talked to the owners of the farms and asked questions. We go to see the different ways people do things.
Before starting the OFTP, I had the vision of Sunlight Gardens and the program helped craft it and make it work. It was hard to be running a business and be in OFTP school 4 days a week, but I liked that I could immediately apply their advice to a problem I was having at the farm.
You recently received an award for your work. Can you tell me a little more about it?
DW: Last year we won a Michigan Good Food Fund Food Business Bootcamp in Battle Creek, which was a 3-day weekend workshop. Over the course of the weekend, you build a business pitch and everyone pitches their ideas. Ours was based around having a tractor, how there's not enough nutritious food in the 'hood and a tractor would help us grow more food. We won a $10,000 grant prize and that's how we got our tractor. We prepared our fields with pitchforks last year. This year the tractor will be 100% more efficient.
*Devon received support for the MSU Organic Farmer Training Program through the MSU Center for Regional Food Systems People of Color Scholarship, funded by the WK Kellogg foundation. To learn more about the scholarships available, visit: http://www.msuorganicfarm.org/organic-farmer-training-program.html
Visit Sunlight Gardens on Facebook: https://www.facebook.com/sunlightgardens1/