Lunchtime Events on Food Fairness at Summit
Attendees of the 2014 Michigan Good Food Summit on October 28 will be treated to a special musical performance by the Food Warriors. This performance will be followed by a keynote panel on fairness in Michigan's food system.
October 13, 2014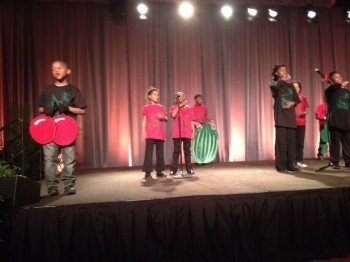 Food Warriors Performance and Keynote Panel on Fairness to Follow Michigan Lunch at Summit
Following a delicious lunch of seasonal Michigan foods, attendees of the 2014 Michigan Good Food Summit on October 28 will be treated to a special musical performance by the Food Warriors. This is one you don't want to miss!
The Food Warriors Youth Development Program is the youth component of the Detroit Black Community Food Security Network. Eleven young people will perform "The Food Warriors Anthem," a song that speaks to embracing agriculture as good and noble work, understanding we are all stewards of our Mother Earth and recognizing young people as "change agents."
Three speakers – Dr. Alicia Farris, Filiberto Villa, and Thomas Thornburg – will then explore what "fair food" means in the context of restaurant work, food production and migrant and seasonal farmworkers. This lunch keynote panel will draw on themes from the showing of the Hollywood feature film Cesar Chavez the evening before.
Dr. Alicia Farris is the Michigan Director of the Restaurant Opportunities Center (ROC), an organization that leads efforts to advance justice in restaurant workplaces. ROC-Michigan unites restaurant workers across Southeast Michigan who belong to many different communities and yet face common challenges and injustices at work.
Filiberto Villa is president of Farmers on the Move, the only cooperative of Hispanic farmers in Michigan. The mission of Farmers on the Move mission is to provide locally grown, sustainable produce, enhance the economic viability of Michigan's agricultural landscape and to preserve the family farm once again.
Thomas Thornburg is co-managing attorney of Migrant Farmworker Legal Services, the non-profit "law firm of first resort" for Michigan's 95,000 farmworkers and dependents. In 2014, he and Farmworker Legal Services received the inaugural "Cesar E. Chavez Social Justice Leadership Award" from the Southwest Michigan Cesar E. Chavez Committee.
The panel will be moderated by Dr. Rubén Martinez, Director of the Julian Samora Research Institute at Michigan State University. Martinez is a nationally known scholar with expertise in the areas of higher education, race and ethnic relations, and diversity leadership.
To register for the Michigan Good Food Summit and view the full agenda, visit: https://www.regonline.com/2014goodfoodsummit.