Good Food Life: Michelle Napier-Dunnings
Executive Director, Michigan Food and Farming Systems, Lansing, MI
July 8, 2013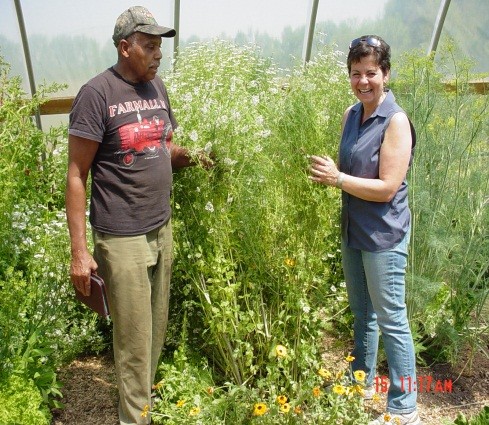 What is your role at the Michigan Food and Farming Systems (MIFFS)?
MND: I am the Executive Director. At MIFFS that means that I am responsible for helping develop, staying focused on, and finding resources to fulfill the organization's purpose: Providing beginning and historically underserved farmers access to resource opportunities for developing profitable and environmentally sustainable businesses.
How does MIFFS work towards the goals of the Good Food Charter?
MND: MIFFS programs and projects reflect values and goals similar to the Good Food Charter. MIFFS' strategic plan has a goal, "By 2020 10% of the 20% of MI grown foods purchased in MI will be produced by beginning and historically underserved farmers." MIFFS educational workshops, events, and yearly conference collectively aim to bring ALL farmers into the food system in equitable and environmentally sustainable ways.
What do you find most exciting or inspiring about what you're doing?
MND: To evolve any system, many people must come together. I find the people involved in my work inspirational, brilliant, and very collaborative. I know that the only way we will reach the Good Food Charter goals is to develop strong, honest, and challenging partnerships. When we collectively decide "how" we will work together, amazing things can happen.
In addition, it is a great privilege to support those who are tending the earth. Our earth's resources are abundant AND limited. Learning how to live within those parameters with others who put their entire hearts and souls into the work is truly energizing.
What opportunities do you see for moving towards the goals of the Michigan Good Food Charter?
MND: The charter represents a change of perspective, a change of habits, and a change of collective values. Work needs to occur on many levels and at many points along the food chain. MIFFS is focused on hands on learning through educational farming centers. We believe that with more individuals experiencing farming, working the soil, producing nutrient-rich food, and tasting the results, there will be greater support of the shift towards achieving the Good Food Charter goals.
What is one thing you've learned through your experience with working towards the goals of the Good Food Charter that you'd like to share with others?
MND: Experience is the best teacher of change. Farmers work extremely hard in an environment that is often beyond their control and they still produce a plethora of valuable products. Much of our work is aimed at enabling farmers to be more business-like to combine their love of the land with meeting market challenges. We have found through experiential learning great things happen!