Michigan's Fair Food Network receives $5.1M to scale up successful program
Fair Food Network recently announced that it has received $5.1 million from the U.S. Department of Agriculture (USDA) to expand Double Up Food Bucks, Michigan's statewide healthy food incentive program.
April 13, 2015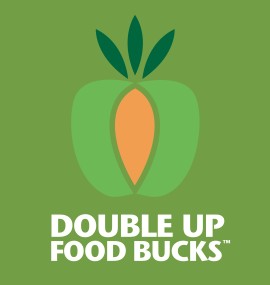 By: Fair Food Network

ANN ARBOR, Mich.— Fair Food Network recently announced that it has received $5.1 million from the U.S. Department of Agriculture (USDA) to expand Double Up Food Bucks, Michigan's statewide healthy food incentive program that simultaneously increases access to healthy food for low-income Americans and puts more money in the pockets of family farmers. The grant, provided by the new Food Insecurity Nutrition Incentive (FINI) grants program, will be matched with private funds for a total of nearly $10.4 million. The funds will be used to better serve participants on SNAP (the Supplemental Nutrition Assistance Program, formerly known as food stamps) by expanding the Double Up program to more farmers markets and grocery store locations across Michigan and supporting new technology and other innovations.
"We've proven that Double Up successfully boosts family nutrition and farmer earnings," said Oran Hesterman, president and CEO of Fair Food Network, and a former farmer, agronomist, and leader in philanthropy. "With this funding, we'll reach even more people, supporting healthy food environments and resilient rural and urban communities."

"Michigan is leading the way"
The Double Up program matches the value of SNAP purchases made at participating sites with additional dollars to spend on fresh, regionally grown produce. For instance, a family that spends $10 in SNAP benefits at a participating farmers market or grocery store, receives an additional $10 in Double Up Food Bucks to purchase Michigan grown fruits and vegetables. The positive impacts are three-fold: low-income families have increased access to and eat more healthy food; regional farmers gain new customers and make more money; and more food dollars stay in the local economy. U.S. Sen. Debbie Stabenow of Michigan was a strong advocate for establishing a federal SNAP incentive grants program. The USDA FINI funding program is just one example of ways that Congress and USDA are promoting healthier, less processed food.
Senator Stabenow said, "It's this type of innovative partnership that I fought to include in the Farm Bill. I am so proud that Michigan is leading the way. With this new support, the Fair Food Network will continue their great work and I look forward to working closely with them as they get the Double Up program in more farmers markets and grocery stores throughout the state."
Double Up's proven model: Innovate, evaluate, replicate
Since 2009, Double Up has expanded from five farmers markets in Detroit to more than 150 sites across Michigan, benefitting more than 300,000 low-income families and more than 1,000 farmers. A study of Double Up's first five-years found:
More than 90 percent of SNAP recipients at farmers markets report eating more fruits and vegetables because of Double Up; more than 80 percent report buying fewer high-fat snacks.
Of the 1,000+ farmers that participated in 2013, 90 percent report selling more fruits and vegetables, and 85 percent report making more money.
Michigan is now number three in the nation for SNAP use at farmers markets, and the top state in the Midwest Region. "We're working to make Michigan healthier, and that includes improving access to locally grown fruit and vegetables," said Gov. Rick Snyder. "Fair Food Network has an innovative plan that helps people make good decisions, but also helps our farmers and our economy."
The program's success is rooted in partnerships with local markets, statewide networks, state agencies and other organizations. A complete list of partners and funders can be found at doubleupfoodbucks.org/partners/.
The W.K. Kellogg Foundation has been a longtime supporter of Double Up Food Bucks."When you boost access to healthy food for children and families and simultaneously fortify local farm economies, you've got a winning solution," said La June Montgomery Tabron, president and CEO of the foundation.
Fair Food Network is a national nonprofit dedicated to growing the good for a more just and sustainable food system. With a diverse network of partners, we pioneer solutions that support farmers, strengthen local economies, and increase access to healthy food—especially in our most underserved communities. Headquartered in Michigan, our programs create on-the-ground impact, serve as replicable models, and spur public policy change. And we bring people together to generate ideas, share resources, and inform policy to reinvigorate regional food economies. Dig deeper at fairfoodnetwork.org and doubleupfoodbucks.org and join us on Facebook and Twitter @FairFoodNetwork and @OHesterman.