Producers in Northern Michigan Help Others Eat Well
Bluestem Farm offers farm fresh food to low-income community members.
November 1, 2013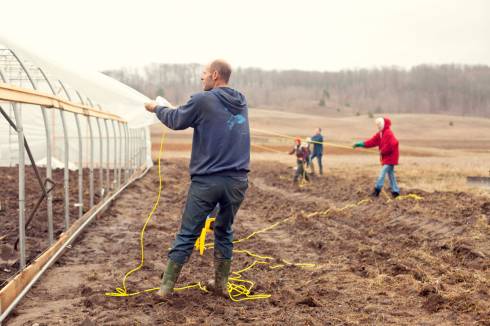 By Katy Joe DeSantis, Michigan Good Food Charter Intern
Bluestem Farm only set its roots in Northern Michigan less than two years ago, but is already showing a lot of love to the local community. Since 2012, first generation farmers Aaron and Mary Brower have been practicing sustainable, community-based farming on their 80-acres of land in East Jordan, MI. Like many people concerned with good food, this couple knows that bringing fresh, healthy, and sustainably-produced food to underserved communities is of tremendous importance, and through several new programs, they are going out of their way to do just that.
Mary Brower and the couple's son, Peter. Photo courtesy of Bluestem Farm.
"As farmers, we of course believe in the importance of good food and see ourselves as an important piece of the local food system, especially in winter when sourcing local food can be really hard," Mrs. Brower said. "But we are aware that food like ours can cost more, which puts it out of the price range of many households."
Using rotational grazing and sustainable, chemical-free growing methods, the Browers produce fruits, vegetables, meat and eggs that they sell at northern Michigan farmers markets, as well as for year-round Community Supported Agriculture (CSA) shares. Although the farm has already been accepting SNAP/EBT payments for several months, one of their recent endeavors involves assistance from Michigan State University's Center for Regional Food Systems and the Michigan Farmers Market Association (MIFMA), through a program called Hoophouses for Health.
This program, funded by the W.K. Kellogg Foundation, awards Michigan farmers loans to build hoophouses to allow for a longer growing season through the colder winter months. In turn, farmers like Aaron and Mary offer food to eligible food-insecure families in their communities, who use vouchers given to them through community organizations to pay the farmers. Each time a farmer accepts a voucher for their product, the dollar amount of that voucher is taken off the loan, and farmers have five years to pay it back with zero interest.
The program aims to help low-income families increase their consumption of healthy fruits and vegetables, while simultaneously assisting farmers to pay for the capital investment necessary to grow and sell year round.
"The purpose of the program is to introduce vulnerable families to local farmers markets and to provide these families with the resources they need to become loyal, repeat customers," said Dru Montri, MIFMA director and program partner. "Hoophouses for Health also puts working capital into the hands of farmers who use it to build hoophouses, which extend the growing season and allow Michigan farmers to grow cold-tolerant vegetables throughout the winter months."
While most farms are using this money to reach out to food-insecure families via their local farmers markets, the Browers thought they could use some of it to reach families in their community through their CSA program as well. This year, while some members will pay a typical membership fee as usual, local low-income and food insecure families will also be eligible to join the CSA for a discount or no cost at all.
Along with accepting Hoophouses for Health vouchers to help pay for some of the shares, the farm will also employ their own subsidized share program called the Help Others Eat Well fund. Through the money raised by the farm, other CSA members and various outside sources, families that may not be eligible for typical food assistance, because they are in an immediate crisis or have incomes that are slightly too high, will be able to afford the same CSA shares as others.
Bluestem's winter CSA program runs from Thanksgiving week through early March, and offers members the option of choosing a small or a large share containing fresh vegetables, all of which are produced without the use of synthetic fertilizers or pesticides. Members also have the option of including heritage-breed pork, eggs, and/or chicken that are pasture-raised and GMO free in their shares as well. The food in Bluestem's CSA shares is 20-30 percent less expensive than their typical retail prices, and can be picked up weekly either at the farm or in one of four nearby cities, depending on the members' needs.
"People benefiting from the Help Others Eat Well fund will be able to pick up either at the farm or at one of our off-farm locations, including farmers markets," Brower said. "The only difference between these households and other members would be that their shares would be subsidized to some degree.
A self-selected group of CSA members will be deciding eligibility requirements and the terms of the discounted and free shares, and, for now, money to support Help Others Eat Well will be raised through a pool of donations. Several of the
CSA members in the selection committee are public health workers, and Brower is hoping that they will help streamline the message of the program and gain support.
In addition to the individual donations, East Jordan-based independent band Breathe Owl Breathe approached the Browers about throwing a benefit concert to support their vision . The concert will be held at 7pm on November 8 at the East Jordan Civic Center, and all proceeds will go toward supporting the Help Others Eat Well fund, as well as the local nonprofit Institute for Sustainable Living, Art & Natural Design (ISLAND).
"It's just an amazing thing they are doing over there, and they are bringing such spirit to the community," said Micah Middaugh, Breathe Owl Breathe vocalist and guitar player. "For folks to eat from their farm and experience them as people from this little corner of the earth is pretty amazing. Having people who wouldn't be able to afford a share be able to will be really fulfilling for families to experience part of what [Bluestem does]. It resonates through many avenues."
For more information about Bluestem Farm and its food assistance programs, click here.
For more information on the November 8th Breathe Owl Breathe benefit concert, click here.