Vote for a home for the Good Food For All mural
Vote for one of three organizations to be the home of the mural from the 2016 Michigan Good Food Summit!
December 13, 2016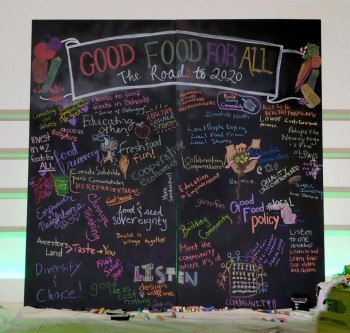 This mural is a visual depiction of the values underlying "Good Food for All: The Road to 2020," the theme of this year's 2016 Michigan Good Food Summit. The mural began as a blank canvas and was transformed by many of the nearly 500 people attending the Summit.

After tallying nominations, the three finalists that would like to display the mural are:

Help choose a home for the mural! Vote for your choice via Facebook Poll.

The last day to vote is December 31, 2016. We will announce the winner in the new year.

Special thanks to Cynthia Price with Greater Grand Rapids Food Systems Council and Lindsey Scalera of the Ecology Center, for their efforts in planning and preparing the mural.