Bridget Behe PhD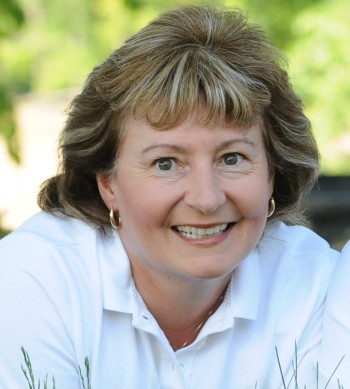 behe@msu.edu
Telephone: (517) 353-0346

Department of Horticulture
Professor
1066 Bogue St, Room A238
East Lansing, MI 48824
Area of Expertise:
Marketing of horticultural crops, both edible and ornamental
---
Degree:
PhD
---
Quick links: Education Teaching Publications Extension Research
Dr. Behe joined Michigan State in 1997 after working for eight years as Assistant Professor then Associate Professor on the faculty at Auburn University in Alabama. She earned her Ph.D. from Penn State after earning an M.S. from The Ohio State University. Before that, she earned simultaneous B.S. degrees, one in horticulture and one in agricultural education, from Penn State University. Bridget is also a Certified Florist.
Instruction
Bridget has a 40% teaching appointment and teaches two classes. HRT 407 (Horticulture Marketing) every other fall semester and HRT 404 (Horticulture Management) every spring semester. She also chairs the Scholarship Committee.
Research
Dr. Behe has a 40% research appointment at Michigan State. She has investigated the consumer perspective of the horticulture industry for the past 26 years. Bridget has conducted studies and published results on the value of good landscaping from the consumer perspective, the market for a hypothetical blue geranium, helped to develop a market for fresh tart cherries and packaged, fresh asparagus, and contributed to the understanding of how age and ethnicitiy influence American gardening purchases and participation. Current investigations are helping to better understand the consumers and markets for sustainably- and locally-grown plants, both edible and ornamental. Most exciting is the new eye-tracking research to better understand what consumers see and what they ignore in ads, displays, and the shopping experience.
Extension
Bridget gives talks to state, regional, and national businesses and associations involved in many aspects of horticulture, helping to better their marketing and management practices to improve profitability and sustainability.
Publications
Selected Refereed Publications
Rihn, A., H. Khachatryan, B. Campbell, B. Behe, and C. Hall. 2016 (accepted). Consumer Preferences and Visual Attention to Organic Production Methods and Origin. (Agricultural Economics).
Campbell, B., C. Hall, B. Behe, H. Khachatryan, J. Dennis. 2016. Crunch the Can or Throw the Bottle? Effect of "Bottle Deposit Laws" and Municipal Recycling Programs. Resources, Conservation, and Recycling 106(Jan):98-109. http://dx.doi.org/10.1016/j.resconrec.2015.11.006
Palma, M.A., B.K. Behe, C.R. Hall, P.T. Huddleston, and T. Fernandez. 2016. Tracking Position Premiums in Discrete Choice Experiments. J. Applied Economics. DOI: 10.1080/13504851.2016.1150941.
Behe, B.K., P.T. Huddleston, and L. Sage. 2016. Age Cohort Influences Brand Recognition, Awareness, and Likelihood to Buy Vegetable and Herb Transplants. HortScience 51(2):145-151.
King, Andrew R., Marco A. Palma, Bridget K. Behe, Thomas Fernandez, Lynnell Sage, Charles R. Hall, and Michael A. Arnold. 2015. Garden Consumers' Behavior and Attitudes Toward Woody Plants and Water Conservation in Two Selected Communities. J. Environmental Horticulture 33(3):110-118.
Getter, Kristin, Bridget Behe and Heidi Wollaeger. 2016. Comparative Consumer Perceptions on Eco-friendly and Insect Management Practices on Floriculture Crops. HortTechnology 26(1):46-53.
Khachatryan, Hayk, Chengyan Yue, Ben Campbell, Bridget Behe, and Charlie Hall. 2015. The Effects of Consideration of Future and Immediate Consequences on Willingness to Pay Decisions for Environmentally Friendly Plant Attributes. J. Environmental Horticulture. 32(2):64-70.
Rihn, A., Khachatryan, Hayk, Ben Campbell, Charlie Hall, and Bridget Behe. 2015. Consumer Response to Novel Indoor Foliage Plant Attributes: Evidence from a Conjoint Experiment and Gaze Analysis. HortScience 50(10):1524-1530.
Huddleston, P. T., B.K. Behe, S. Minahan, and R. T. Fernandez. 2015. Seeking Attention: An Eye-tracking Study of In-Store Displays. International Journal of Retail and Distribution Management. 43(6):561-574.
Yue, Chengyan, Ben Campbell, Charles Hall, Bridget Behe, Jennifer Dennis, and Hayk Khachatryan. 2015. Consumer preference for sustainable attributes in plants: evidence from experimental auctions. Agribusiness: An International Journal. DOI: 10.1002/agr.21435
Campbell, B., B.K. Behe, H. Khachatryan, C. Hall, and J.H. Dennis. 2015. Consumer Perceptions of Ecofriendly and Sustainable Terms. Ag. and Resource Economics Review, 44(1):21-34.
Wollaeger, H.M., K.L. Getter, and B.K. Behe. 2015. Consumer Preferences for Traditional, Neonicotinoid-Free, Bee-Friendly, or Biological Control Pest Management Practices on Floriculture Crops. HortScience 50(5)721-732.
Behe, B.K., Mikyeung Bae, P. Huddleston, and Lynne Sage. 2015. The Effect of Involvement on Visual Attention and Product Choice. Journal of Retailing and Consumer Services. 24(May):10-21.
Behe, B.K., B. L. Campbell, C.R. Hall, H. Khachatryan, J.H. Dennis, R.T. Fernandez, P. Huddleston. 2014. Incorporating eye tracking technology and conjoint analysis to better understand the green industry consumer. HortScience. 49(12):1550-1557.
Rihn, A.L., C. Yue, C. Hall, and B.K. Behe. 2014. Consumer Preferences for Longevity Information and Guarantees on Cut Flower Arrangements. HortScience. 49(6):769-778.
Campbell, B., B.K. Behe, H. Khachatryan, C. Hall, and J.H. Dennis. 2014. U.S. and Canadian Consumer Perception of Local and Organic. Intl. Food and Agribusiness Management Rev. 17(2):1-20.
Getter, Kristin, Bridget Behe, David Connor, Phillip Howard. 2014. Pasture-raised Milk: The Market for a Differentiated Product. Journal of Food Products Marketing, 20:2, 146-161.
Khachatryan, H., Campbell, B., B.K. Behe, C. Hall, and J.H. Dennis. 2014. The Effects of Individual Environmental Concerns on Willingness to Pay for Sustainable Plant Attributes. HortScience. 49(1):69-75.