Mojgan Nejad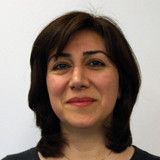 nejad@msu.edu
Telephone: 517-355-9597

Department of Forestry
Assistant Professor, Green Bioproducts
116 Natural Resources Building
Positions:
Assistant Professor, Green Bioproducts
Professor (status only), University of Toronto Mechanical and Industrial Engineering Department
Education:
PhD in Wood Science, University of Toronto, 2010
BS in Applied Chemistry, K.N. Toosi University of Technology, 1992
Research interests:
Lignin-based bioproducts
Wood coating
Wood protection
Selected publications:
Somayyeh Kalami, Maryam Arefmanesh, Emma Master, and Mojgan Nejad. "Replacing 100% of phenol in phenolic adhesive formulations with lignin." Journal of Applied Polymer Science (2017). DOI: 10.1002/app.45124
Mojgan Nejad, Romina Shafaghi, Larry Pershin, Javad Mostaghimi and Paul Cooper, Thermal Spray Coating: A New Way of Protecting Wood, Bioresources, 12(1), 2016, 143-156
Mojgan Nejad, Maryam Arefmanesh, Katie Henderson, Javad Esmaeelpanah, Sanjeev Chandra and Javad Mostaghimi, Waterborne Coating: Defoamer Performance Measured by Evaluation of Coating Film Appearance, European Coating Journal, October 2015, 30-36.
Mojgan Nejad, Paul Cooper, Veronic Landry, Pierre Blanchet and Ahmed Koubaa, Studying Dispersion Quality of Nanoparticles into a Bio-based Coating, Progress in Organic Coatings, 2015, 89: 246-251.
Mojgan Nejad, Romina Shafaghi, Hiba Ali and Paul Cooper, Coating Performance on Oil-heat Treated Wood for Flooring. BioResources, 2013, 8(2), 1881-1892
Mojgan Nejad and Paul Cooper, Performance Characterization of Coatings on Treated-Wood, Progress in Color, Colorants and Coatings Journal, 2013, 6: 61-65
Mojgan Nejad, Tony Ung and Paul Cooper, Protocol Comparison: Laboratory Versus Natural Weathering Tests for Performance Evaluation of Coatings on Preservative Treated Wood, Forest Products Journal, 2012, 62 (3): 177-183
Mojgan Nejad, Tony Ung and Paul Cooper, Effect of Coatings on ACQ Preservative Component Distribution and Availability After Natural Weathering Exposure, Journal of Wood Science and Technology, 2012, DOI : 10.1007/s00226-012-0472-0
Mojgan Nejad and Paul Cooper, Exterior Wood Coatings, Part 2: Modeling Correlation Between Coating Properties and their Weathering Performance, Journal of Coating Technology and Research, 2011, 8 (4) pp.459–467
Mojgan Nejad and Paul Cooper, Exterior Wood Coatings, Part-1: Performance of Semitransparent Stains on Preservative Treated Wood, Journal of Coating Technology and Research, 2011, 8(4), pp. 449-458
Mojgan Nejad, Rana Sodhi and Paul Cooper, Investigation of Imaging ToF-SIMS as a Means to Study Coatings on Wood, Journal of Surface and Interface Analysis, Volume 43, Issue 1-2, January- February 2011, pp. 595–599
Mojgan Nejad and Paul Cooper, Coatings to Reduce Wood Preservative Leaching, Journal of Environmental Science and Technology, 2010, 44 (16), pp. 6162–6166
Invited talks:
Mojgan Nejad, Formulating Coatings with Wood Properties in Mind, 7th Biennial Wood Coatings and Substrate Conference, Greensboro, NC, September 2016 (Keynote Speech)
Mojgan Nejad, How to Increase Lifespan of Exterior Wood Coatings, The 46th International Research Group on Wood Protection annual meeting, Vina del mar, Chile, May 2015 (Keynote Speech)
Mojgan Nejad, Wood Coatings and Developing Lignin-based Resins, Lubrizol, Cleveland, August, 2015
Mojgan Nejad, Bio-based Polyurethane Resins, Bayer material Science, Pittsburgh, PA, August, 2012
Mojgan Nejad, Wood as a Substrate for Coatings, Sherwin Williams Company, Cleveland, April 2012