Food, fuel and fiber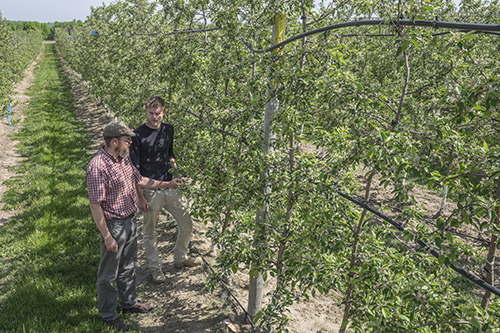 Securing the world's food supply. MSU entomologists collaborate with other scientists to develop sustainable systems that maximize crop yields, conserve beneficial insects, and minimize pesticide use, resulting in productive cropping systems. We also conduct pollinator research, teaching and extension programs focused on enhancing factors that contribute to maximizing the quantity and quality of crops pollinated by honey bees and other wild pollinators. View a gallery of images.
Note to prospective graduate students: Assistant, Associate and full Professors serve as graduate student major advisors. Professor Emeriti (retired professors), Adjunct Professors and Academic Specialists may serve on graduate student committees.
Field crops entomology
Fruit entomology
Ecology, behavior and spatial dynamics of insects or nematodes
Integrated Pest Management (IPM) research/extension programs
Christina DiFonzo, Professor
Sue Erhardt, Assistant Professor, Director of IR-4 Laboratory
Matt Grieshop, Assistant Professor
Larry Gut, Professor
Rufus Isaacs, Professor
Lynnae Jess, Extension Specialist, Co-Director North Central IPM Center
Doug Landis, Professor
Joy Landis, Senior Academic Specialist, Assistant IPM Coordinator
Karim Maredia, Professor
Mallory Marienfeld, Academic Specialist
David Mota-Sanchez, Assistant Professor
Barry Pittendrigh, MSU Foundation Professor
Bill Ravlin, Entomology Chairperson, IPM Coordinator
Howard Russell, Senior Academic Specialist, MSU Diagnostic Services
David Smitley, Professor
John Stone, Academic Specialist
Zsofia Szendrei, Associate Professor
Fred Warner, Senior Academic Specialist, MSU Diagnostic Services
John Wise, Professor, Director North Central Region IR-4
Amos Ziegler, Midwest Invasive Species Information Network Coordinator
Larry Olsen, Professor Emeritus
George Bird, Professor Emeritus
Mark Whalon, Professor Emeritus
Robert Hollingworth, Professor Emeritus
Jim Miller, Professor Emeritus
Ernest Delfosse, Professor Emeritus
Ed Grafius, Professor Emeritus
Nursery, Landscape, Turfgrass entomology
Pollination and pollinator health
Vegetable entomology