Application process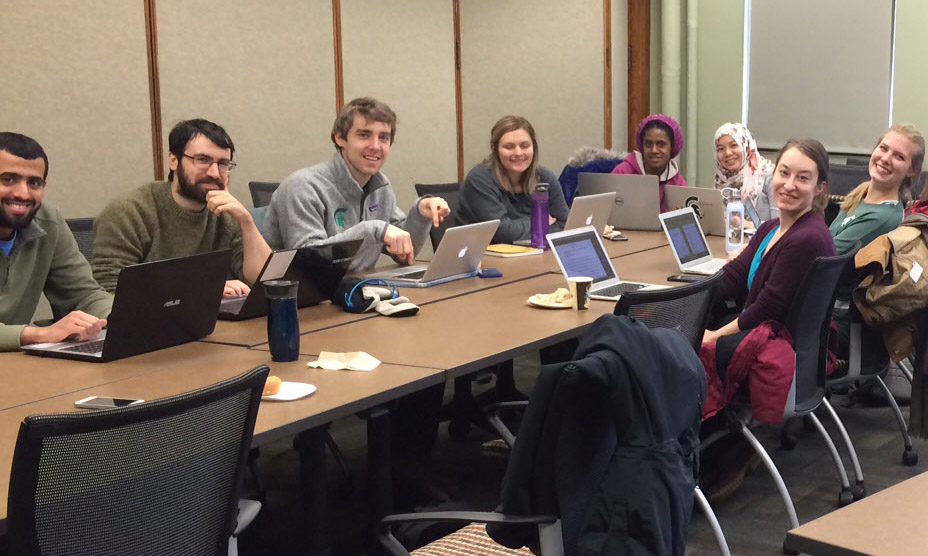 Please read the "Identifying a major professor and funding" page before you begin the application process! In order to be accepted, the MSU Department of Entomology requires our incoming graduate students to have a faculty member who agrees to be their major professor, and to have sufficient funding identified.
Required application materials for domestic applicants
Fill out MSU's online Graduate School Application Form and pay the $50 application fee. Once you create an on-line application to the Graduate School, you also create an on-line portal where your application materials are uploaded and received.
The materials to upload to your portal are:
Resume or CV.
Official transcripts from previous undergraduate and graduate study are required. Official transcripts must be sent from the Office of the Registrar of your previous institution(s). If they are unable to have official transcripts uploaded to your application portal, please request the official transcripts be mailed to:
Heather Lenartson-Kluge, Graduate Secretary
Department of Entomology
288 Farm Lane, Room 243
East Lansing, MI 48824
Important! Do not have transcripts sent to either The Graduate School or The Office of Admissions. Transcripts that are marked "Issued to Student" are not official and are not acceptable.


All applicants to graduate school must have obtained at least a bachelor's or science or a bachelor's of arts degree.
Applicants must have a minimum of 3.0 grade point average (on a 4.0 scale) in the most recent four semesters of their education. Under some circumstances, applicants are admitted with lower averages on a probationary status.
Note to international applicants: Official transcripts and diplomas, mailed in an official, sealed envelope, to the address noted above, from each institution attended are required. Documents must be submitted in their original language accompanied by an official word-for-word English translation. Photocopies and scanned copies sent through email are not acceptable for admission. Original documents issued directly to students (in an open, unsealed envelope and/or documents only issued once to students) are also not acceptable for admission. Documents must have the official seal/stamp of the issuing school and official signature.

Academic statement (2 pages maximum). Suggested topics for academic statement: aspects of entomology you are interested in, prior training/experience in entomology or biology, identified lab or professor in our department, areas of interest for research, teaching aspirations, graduate school goals, career goals.
Personal statement (2 pages maximum). Suggested resource for writing a personal statement: Purdue Online Writing Lab.
Three letters of recommendation.

You will receive an email providing a link for references to upload their letters to your application portal once your application fee has been paid and online application has been submitted. Please be sure to forward this information to your references.
Make sure to ask people ahead of time whether they agree to write a letter of recommendation for you, and be sure to remind them as the deadline approaches.
Choose letter writers who know you well academically and/or professionally and can speak to your potential suitability for graduate school.

Official Graduate Record of Examination (GRE) scores.

Please request that ETS send your scores to MSU electronically. MSU's code is 1465 and no departmental code is required. Your scores will be uploaded to your application portal by MSU.
The Department of Entomology does not require any subject GRE test scores.
Required application materials for international applicants
International applicants are required to supply all of the information mentioned above for domestic applicants, in addition to:
Official Test of English as a Foreign Language (TOEFL) scores. These should be sent electronically to MSU (code 1465). Your scores will be uploaded electronically to your application portal by MSU.

Every applicant whose native language is not English, or whose undergraduate instruction was not in English, must provide official scores from a TOEFL test. Test scores cannot be more than two years old.
The minimum internet-based (iBT) TOEFL score for regular admission is an average score of 80 with no subscore below 19 for reading, listening, and speaking; no writing subscore below 22. The Paper-based test (PBT) minimum average score should be 550, with no subscore below 52 at MSU.
Applicants from China: Michigan State University requires all incoming ADMITTED students pursuing degrees or who have earned degrees from universities in China to submit a verification report (English version) through the China Academic Degrees and Graduate Education Development Center (CDGDC) for their final bachelor degree transcripts (大学成绩单) and bachelor degree (本科学位证书). All verification reports need to be sent to the MSU Office of Admissions directly by CDGDC. For master's degree granted students, we only need the undergraduate level verification report from CDGDC. Please refer to the CDGDC website for more information.