Identifying weeds in field crops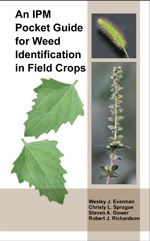 This information about field crop weeds was developed from the publication An IPM Pocket Guide for Weed Identification in Field Crops by Wesley Everman, Christy Sprague, Steven Gower and Robert Richardson. Purchase this in a pocket-sized guide for reference from the MSU Extension Bookstore (publication E3081).
For reference:
Common weeds found in field crops
Identify weeds by:
Identifying characteristics
Kidney
Linear
Lance-shaped
Oblong
Oval
Egg-shaped
Round
Spatula-shaped
Smooth
Lobed
Serrated or toothed
Dissected or divided
Wavy
Common name
Scientific name
View more of our resources for field crop farming.
Funding to place the guide information on this website was provided by:
The North Central IPM Center