Aaron Tucker receives 2022 CANR Outstanding Academic Advisor Award
School of Packaging's Aaron Tucker to receive the 2022 CANR Outstanding Academic Advisor Award.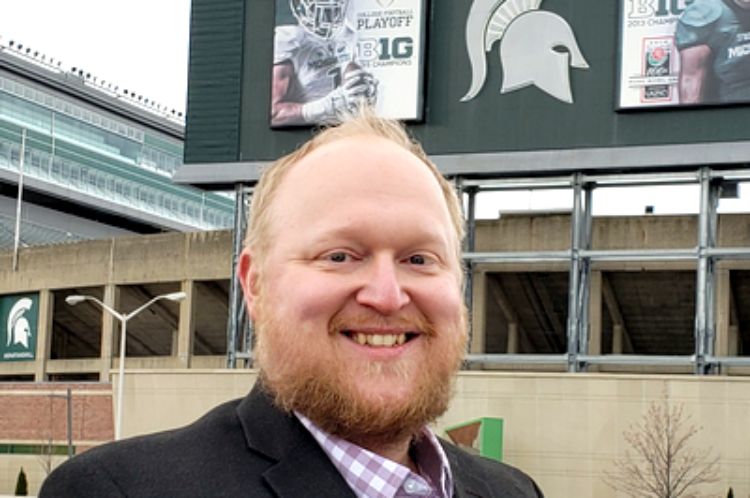 Aaron Tucker, undergraduate advisor in the Michigan State University (MSU) School of Packaging, will receive the 2022 MSU College of Agriculture and Natural Resources (CANR) Outstanding Academic Advisor Award on April 21.
The CANR Outstanding Academic Advisor Award honors academic advisors for their commitment and excellence in supporting students to set and reach their academic and professional goals.
Tucker advises undergraduate and graduate students majoring in or exploring degrees in MSU's School of Packaging. Tucker began his journey as the School of Packaging's academic advising specialist in summer 2018.
Academic advisors are known for their accessibility and availability for students. However, according to Matt Daum, Ph.D., School of Packaging director and professor, Tucker consistently takes his academic advisor responsibilities to new levels. Tucker puts forth extra effort to meet with students and make himself available to counsel and advise students. For example, during the COVID work-from-home period, Tucker seamlessly moved all his advising to Zoom and increased his availability throughout weekday evenings and weekends. Open houses, webinars and other student communications were offered at multiple time slots to accommodate the highest percentage of our students.
In addition, Tucker established the Packaging Help Room, providing free tutoring for STEM admission coursework, served as the inaugural chair of the School of Packaging's committee on Diversity, Equity, and Inclusion, and is a key member of the School of Packaging Scholarship Committee.
Tucker earned his bachelor's degree in communication from the MSU College of Communication Arts and Sciences in 2010 and in 2016, earned a master's degree in higher, adult and lifelong education from the College of Education. He prides himself on being a first-generation college student who experienced a non-traditional undergraduate experience. In 2011, Tucker began his professional career as an academic advisor with the Neighborhood Student Success Collaborative (NSSC), formerly the Undergraduate University Division (UUD) with Michigan State University. During his time with NSSC, he worked with freshmen and sophomore students not admitted to a college, students in academic distress, first-generation and Pell grant eligible students, students exploring majors, minors and other programs.