ABM Senior Andrew Smith Speaks at College Commencement
The 2023 CANR Outstanding Student Leadership Award winner was Andrew Smith.
The MSU College of Agriculture and Natural Resources (CANR) selected for it Outstanding Leadership Award Andrew Smith, a dual major in Agribusiness Management (ABM) in the Department of Agricultural, Food, and Resource Economics (AFRE) and Agriculture, Food, and Natural Resources Education (AFNRE) in the Department of Community Sustainability (CSUS).
By tradition, the winner of this award gives the CANR commencement address.
Growing up on a six-generation family farm of cash crops and beef cattle afforded Smith a personal connection to agriculture that he used in his commencement address.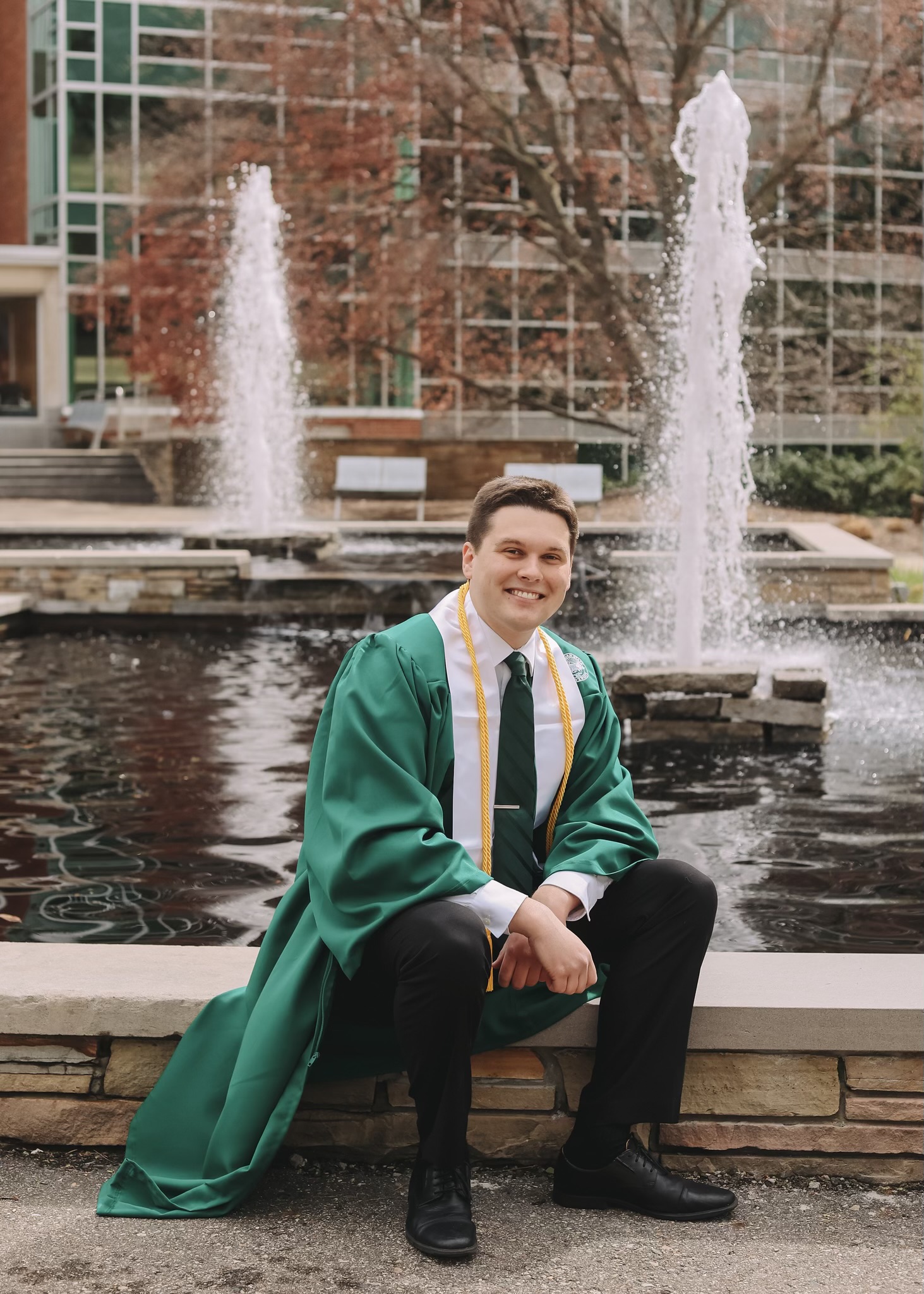 "Everything about how I was raised had some inclusion or relation to agriculture, whether it was kind of the work ethic being instilled or how important community support and connection is," Smith shared.
Smith built his inspiring May 6 CANR commencement address around a weed with a tiny seed: mustard. "Spartan graduates, we are like mustard seeds. When we came to MSU, we were small and questioned our impact…. Against all odds, we started to sprout. We made friends, found passion in extracurriculars, and learned the rules and traditions of being an MSU student. Eventually, we started to produce the fruits of success!"
During his time at MSU, Smith served as the Michigan FFA State Treasurer, officer in the AFNRE Club, President and Vice-President of Collegiate Farm Bureau, and member of Alpha Gamma Rho fraternity, CANR Student Senate, and facilitator of the Agriculture and Natural Resource Olympics.
He extended his network with internships at Michigan Corn Growers Association, the Michigan State House of Representatives, and the Aluminum Association. After graduation, Smith will join the Aluminum Association as its regulatory affairs manager in Washington, D.C., managing the environmental health and safety policy portfolios.
Reflecting on his time at MSU, Smith was grateful.
"I would just say thank you," Smith explained. "There are so many people I'd have to thank: family, friends, all the associations and organizations I mentioned earlier, mentors, staff and faculty. Thank you to all the faculty of the AFRE, AFNRE, and CANR for building all of us students up for success."