After 52 Years, Nancy Creed Says Good-bye
Nancy Creed started at MSU in June of 1971 and with the Department of Agricultural Economics in February of 1976. After 52 years of service to the university, she celebrated her last day on April 3, 2023.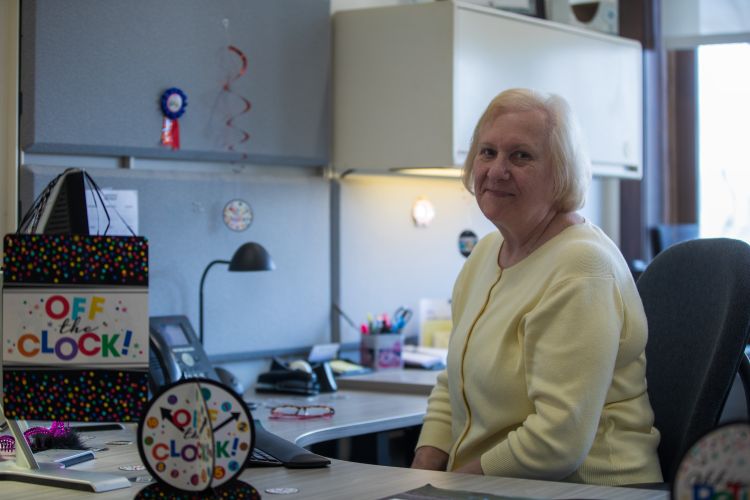 Nancy Creed, whose welcoming smile and can-do attitude enabled generations of MSU students, faculty, and Extension visitors, retired on April 3. Of her 52 years in the College of Agriculture and Natural Resources (CANR), she spent 47 with the Department of Agricultural, Food, and Resource Economics (AFRE). In 2018, she received the Jack Breslin Distinguished Staff Award, MSU's highest career honor for staff.
Creed started at MSU in June of 1971. From 1971 to 1975, she worked with the Department of Poultry Science followed by six months with Department of Horticulture. She started with the Department of Agricultural Economics in February of 1976 and continued through her last day on April 3, 2023.
Creed reflected on her 47 years with AFRE, "Working in AFRE has meant the world to me – which explains why I stayed so long! I have learned so much from so many people over the years. Having good mentors early on inspired me to help others during my time in AFRE. Many of those relationships have become lasting friendships; and for that, I am grateful. I truly believe this is the reason why I had such a successful career."
For 47 years, Creed led coordination for various departmental events including department seminars, career celebrations, MSU income tax schools, and the Ag Credit Conference. She was also responsible for arranging travel for the department, hiring employees, and maintaining supplies, and looking after anything that needed deep knowledge of history.
"Nancy's personal warmth, her deep knowledge of the University, and her willingness to do whatever needed to be done made her a delightful colleague," enthused current AFRE chairperson Scott Swinton. "Her amazing history with the University has meant that when someone stops by who graduated in 1982, I just steer them over to Nancy and they reconnect. She is loved by so many who have passed through our doors over the years."
Professor Emeritus Jim Hilker had this to say, "Nancy Creed was without a doubt the best MSU employee that I knew in the 38 years I worked at the university. Nancy was my secretary for the first 18 years of my career, until she moved up into the front office and took care of the entire department. I always thought of Nancy as more of a colleague than my secretary. As I tell anyone who will listen, she played a big role in getting me through both tenure and promotion to Full Professor. Later, I was Coordinator then Associate Department Chair for AFRE Undergraduate Teaching from 2006 through 2019, which continued to put me in a position to see her great value to AFRE. Her institutional knowledge was incredible and extremely valuable."
Former AFRE office coordinator and administrative assistant to the chair, Ann Robinson elaborated further saying, "Nancy is a loyal and true AFRE citizen and I feel privileged to have worked with her the entire time that I was in the department. Nancy was always ready to help in any way and her upbeat attitude was contagious in the events she coordinated. She has been a constant - dedicated to the department, college, and university. Her long-time dedication has given her a wealth of department knowledge especially related to former faculty and staff and the evolution of the department. Nancy was a delight to work with and she is one of my dear friends."
Over her 47 years in Ag Hall, Creed saw the Department of Agricultural Economics, chaired by Harold Riley, Larry Connor, Lester Manderscheid, Larry Hamm, and Lynn Harvey, become the Department of AFRE, chaired by Steve Hanson, Lindon Robison, Titus Awokuse, and Scott Swinton.
Steve Hanson, now Dean of International Studies and Programs reminisces, "Over her long career, Nancy continually reinvented herself as she provided high-quality professional support to countless faculty, students, and administrators. Her depth and breadth of experience coupled with her ability to adapt made us all better and she has been integral to the department's success. But above all, it is her calm and caring approach that always stood out and that is what we'll remember most. Congratulations, Nancy!"
Professor Emeritus and former chairperson Larry Hamm writes, "Nancy, congratulations on deciding to trade your half century devotion to Michigan State University for your life's next chapter. I still cherish the short duration (37 years) of our countless interactions as a graduate student, faculty member and Chairperson of the Department. Your quiet, steady demeanor, and devotion to not only the daily operations but also the physical facilities of the Department can sometimes be overlooked. You were instrumental in proving the need for a new AG Hall annex and helping in the recovery from the 2000 Millennium Eve terrorist attack. Your career helped build the bedrock upon which the department's world-renowned programs rest. Best wishes on your retirement."
Titus Awokuse, former AFRE chairperson and now Associate Dean for Research and Strategic Partnerships, observes, "Nancy Creed is an exceptional person and has been the constant glue that held our departmental community together. She was a joy and pleasure to work with over the course of my tenure as AFRE Department Chair. Her 52 years of dedicated and self-less service to our university makes her an invaluable resource and a walking encyclopedia of institutional knowledge about life at MSU and AFRE. I will miss her affable personality, her contagious smile, and fun conversations about MSU basketball, football, and anything green and white."
In addition to her role in the front office of AFRE, Creed also worked with the MSU Income Tax School and the TelFarm accounting program. As a result, she indirectly impacted hundreds of farmers, production operations, and tax preparers over her career.
Former TelFarm Director, Larry Borton reflected that, "Nancy enjoys her work, and through her patience, attention to detail, organization, communication, and anticipation gives outstanding results. She helped me for 25 years and helped Mike Kelsey for more than that, and it just made our producing seminars for tax preparers easier and more productive."
AFRE will celebrate Nancy Creed's career with a special reception, 4:00-5:00pm on Wednesday, April 26, in the Atrium of the Morrill Hall of Agriculture.
While she has retired from AFRE, she eagerly begins the next chapter of her life.
"I'm excited about spending time with family and friends," Creed shared. "I'm also looking forward to doing things that don't involve working around a schedule! I will definitely miss everyone in AFRE."
Creed's legacy and impact on the department has been evident over the past decades. She has touched the lives of hundreds of faculty, staff and students. AFRE is a better department because of Nancy Creed.