AgBioResearch scientist part of multistate team to help farmers navigate climate change challenges
Climate and growing seasons are changing, and MSU AgBioResearch scientist Jeff Andresen is helping farmers adapt to those changes.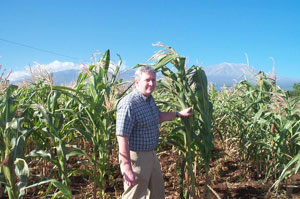 Climate and growing seasons are changing, and Michigan State University (MSU) AgBioResearch scientist Jeff Andresen is helping farmers adapt to those changes.
Ask farmers if they believe in climate change and political views tend to temper their responses. Ask if they've noticed changes in how weather has affected their work, however, farmers will cite numerous trends, said Andresen, associate professor of geography and Michigan's State Climatologist.
Last year, growers in Iowa talked about planting crops in March – the first time anyone can remember getting into fields so early. Recent headlines around the Midwest have focused on this summer's intense drought, leaving growers wondering how to better manage sporadic, torrential downpours that wash away fields rather than gently deliver much-needed rain.
Andresen is part of a team of researchers who want to give farmers the necessary tools to help navigate these climate changes, cope with climate variability and lessen their negative impact on agriculture. The five-year project will be funded by a $5 million grant from the Agriculture and Food Research Initiative, part of the U.S. Department of Agriculture's National Institute of Food and Agriculture.
"Our goal is to help growers assess risks so they can make better, well-informed decisions," said Andresen. "For example, in Michigan the growing season is not long, but it's becoming longer. We want to help growers identify the best ways to take advantage of this knowledge."
The study, which spans 12 states, from North Dakota to Ohio, will develop models to predict how climate scenarios could affect corn and soybean growth and profits. The study also will identify the best ways to deliver the information to farmers.
This summer saw the United States experience the most widespread heat wave in several years. The extremely high temperatures stressed crops (and livestock) and pushed up feed prices while lowering production, Andresen said.
"For corn to pollinate, it needs water and seasonable temperatures," Andresen said. "But with this heat we've had, even irrigated fields are stressed. And this isn't an isolated heat wave, either. At times, there have been excessive heat warnings and watches across 30 states."
The team wants to give farmers easy-to-use climate change projections and other tools that allow them to be successful even when weather is at its worst, he added.
The research team consists of scientists from the University of Illinois, the University of Minnesota, the University of Wisconsin, Purdue University, Iowa State University, the University of Missouri, the University of Michigan and South Dakota State University.
Photo: MSU AgBioResearch scientist, Jeff Andresen